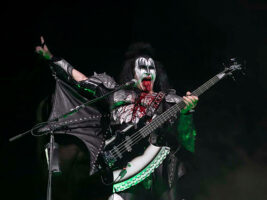 Record a song with Gene Simmons at Abbey Road Studios for $5,995
Gene Simmons of KISS is now offering (paying) fans a once-in-a-lifetime opportunity to record a song with him at the legendary Abbey Road Studios in London.
READ MORE: Fender's new Tyler Bryant "Pinky" Signature Stratocaster is quite the looker
For $5,995, you can spend a day with the rockstar on 10 July at the iconic studio home of The Beatles.
Besides recording a song with Simmons, you will also get to chat directly with the guitarist about his life and his career with KISS. The musician will also be giving away memorabilia from his personal KISS collection for you to keep, and he'll sign two items of your choice as part of the deal.
Items that you could take home range from his sketchbook to his official tour binder from decades past — all of which will come with a certificate of authenticity. You'll even be able to bring one guest along for the day and take photos and videos with Gene.
No musical experience is required, according to the event's official website. The song will also be yours and yours only to keep ("Only YOU will have the copy", the site states) as Simmons will not be releasing the recording.
A deposit of $2,500 is required to reserve your spot and package.
In other KISS-related news, the band have announced the dates for their final ever — apparently for real this time — UK shows, as part of a European 'End of the Road' tour that will run from early June until mid-July.
"There's a lot of talk about everything. And nobody knows what's gonna happen in the future. So what we've kind of put in our minds is let's go through this like this is the end of KISS as we know it," said the band's longtime manager Doc McGhee.
The post Record a song with Gene Simmons at Abbey Road Studios for $5,995 appeared first on Guitar.com | All Things Guitar.
Source: www.guitar-bass.net