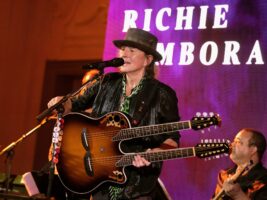 Richie Sambora in discussions to rejoin Bon Jovi
Richie Sambora has brought up the possibility of a reunion with Bon Jovi again, saying that he doesn't think "there's any reason not to at this point."
READ MORE: Genesis, Sting and Rolling Stones spotted on Forbes' top 10 highest paid entertainers list
In a new interview with ITV, the guitarist, who left Bon Jovi in 2013 on good terms, disclosed that he has been in discussions with the band over the possibility. "We're talking about it. I don't think there's any reason not to at this point," he explained, though he clarified that a reunion may not right around the corner as "Jon [Bon Jovi] was having a hard time with his voice a little bit there and he needed to take a little bit of a breather."
"I don't know when Jon's going to get his voice together and (when the Bon Jovi reunion is) going to happen, but we have to get out there and do it for the fans really. I feel a second obligation."
However, Sambora is not resting on his laurels waiting for the reunion, as he has solo music on the way. "There's a new (Richie Sambora) album coming out, probably at the end of March or the beginning of April and (it's) with Bob Rock," he shared, explaining, "It's a rock record. Yeah, it's a lot of fun and the songs are good, and I'm thrilled and I can't wait to get out and play again."
Sambora first hinted at the possibility of a reunion with Bon Jovi last year in November, floating the possibility of joining the band for a performance at the 2023 Glastonbury Festival.
Bon Jovi most recently released their 15th studio album 2020 in October of 2020, which included the previously released singles Unbroken, Limitless, American Reckoning and Do What You Can. Notably, American Reckoning was written as a protest song in response to the police murder of George Floyd and Do What You Can was inspired by singer Jon Bon Jovi's philanthropic work at his JBJ Soul Kitchen Community Restaurant in New Jersey in the first months of the coronavirus pandemic.
The post Richie Sambora in discussions to rejoin Bon Jovi appeared first on Guitar.com | All Things Guitar.
Source: www.guitar-bass.net