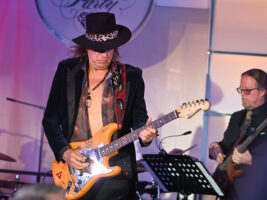 Richie Sambora says there's a "demand" for his return to Bon Jovi
Former Bon Jovi guitarist Richie Sambora has said there's a demand for him to return to the band in a new interview, Blabbermouth reports.
READ MORE: Dave Sabo says mentorship from Jon Bon Jovi 'pushed Skid Row to be a better band'
Speaking on Shred With Shifty, the podcast hosted by Foo Fighters guitarist Chris Shiflett, he's asked about the prospect of him returning to the band.
He replies, "We're talking about it," and when pressed further, being asked if it involves him speaking to Jon Bon Jovi, he adds, "Yeah, it's that. There's a demand out there for it, you know – especially outside of the USA".
Sambora's response differs from his comments in June, when he was again asked about returning to Bon Jovi at the Songwriters Hall of Fame's annual induction and awards gala. When asked if there were plans for him to play with his old bandmates, he said, "Nah! No, not even close. Nobody asked me yet — but I could do it tomorrow if they asked me".
However, in February he told Absolute Radio that he was thinking about rejoining the rock legends after he played with them at the band's Rock and Roll Hall of Fame induction in 2018. "We're talking about it," he said, "I don't think there's any reason not to at this point."
And in November last year, he hinted at a reunion and said that it was something they'd all been discussing.
It wasn't as if Sambora left acrimoniously. In 2016, three years after his departure, he explained that he left to spend more time with his family, and particularly his daughter. Since his departure, Bon Jovi have stayed active, and released their latest album 2020 that same year. Sambora was replaced by Phil X, the former guitarist for pop rock band Powder, and he formally joined the band in 2016.
So, who knows what's going on? Perhaps one day we'll see Sambora performing with Bon Jovi again, and it could be sooner rather than later.
The post Richie Sambora says there's a "demand" for his return to Bon Jovi appeared first on Guitar.com | All Things Guitar.
Source: www.guitar-bass.net