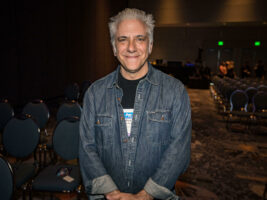 Rick Beato blasts Rolling Stone's "idiotic" top 250 guitar players list
Producer and YouTuber Rick Beato has criticised Rolling Stone magazine's list of its Top 250 Guitar Players in a new video online.
Calling the rundown "idiotic" in his video title and referring to it as a "sh*t list" on the thumbnail, it's safe to say Beato does not agree with its choices.
READ MORE: Have you been playing Led Zeppelin's Whole Lotta Love wrong this whole time?
Rolling Stone has previously caused a stir with its other round up features, including its 200 Greatest Singers list, or its 100 Greatest Heavy Metal Songs Of All Time which were both posted online earlier this year.
Rolling Stone's The 250 Greatest Guitarists Of All Time list has been curated by the current editors and writers at the publication, and features guitarists such as Yvette Young, Keith Urban, H.E.R, Nuno Bettencourt, Muddy Waters, Slash, Lucy Dacus and, of course, loads more.
The outlet previously ran an original list of the 100 Greatest Guitarists back in 2011 also, which was compiled by "a panel of musicians, mostly older classic rockers," as it clarifies in the intro for the mighty list.
The publication states that it wants this newly revised list to show the "evolution" of guitar, by also including modern virtuosos as well as older guitar figureheads. But Beato feels the round up misses out some of the biggest guitar legends out there.
Beato doesn't single out those who he doesn't feel fit the list, but instead discusses those he feels were left out. Though he does say, "Some of my friends are on there who haven't even been out on the scene for 10 years, and this is 'of all time'. People have been playing electric [and acoustic] guitar for 100s of years!"
Beato goes on to frustratedly name players such as George Benson, Al Di Meola, Yngwie Malmsteen, Peter Frampton and many others who didn't make the cut. Check out his full video below:
The post Rick Beato blasts Rolling Stone's "idiotic" top 250 guitar players list appeared first on Guitar.com | All Things Guitar.
Source: www.guitar-bass.net