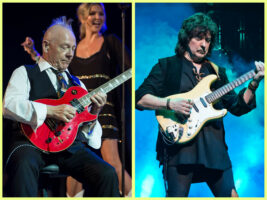 Robert Fripp recalls seeing an 18-year-old Ritchie Blackmore: "he had all the moves"
In a recent interview, King Crimson's Robert Fripp has fondly recalled witnessing the early spark of an 18-year-old Ritchie Blackmore.
READ MORE: "I'm a little bit of a musical snob" Ritchie Blackmore on his love for Renaissance music
Though Fripp has gone on to become a prog pioneer in his own right, watching the young Deep Purple guitarist perform when he was just 17 himself seemed to inspire Fripp to up his guitar game.
Speaking with Guitarist (via Guitar World), Fripp reflected on watching Blackmore performing at a small dance hall venue in Poole, Dorset. Before his breakthrough with Deep Purple, he was performing with The Outlaws. "I saw Ritchie Blackmore live when he was 18 at a dance hall in Poole, Dorset. I was around 17 myself, so this must have been around 1963 or 1964," he says.
"He had all the moves, all the swinging and all the chops," he continues. "We met very briefly in passing and we nodded. My nod to him was one of great respect…"
Though Fripp was in awe of what he was seeing, it was clear that Blackmore was destined for greater things. "My feeling is when he got to 18, he realised that he'd gone as far as he was going to in that band," he asserts. And he was right – the instrumental rock of The Outlaws wasn't enough to keep Blackmore satiated creatively.
The guitarist would go on to carve out his own innovative style with Deep Purple and his own solo work, melding neo-classical riffs with psychedelic, bluesy inflections on his beloved Fender Stratocaster, before fusing hard-rock with baroque music in Rainbow and more recently with Blackmore's Night.
"He was superb [but] it would be unfair to say Ritchie didn't get better, because he continued to grow," Fripp says. "But what I will say is that at 18, he absolutely nailed it."
Elsewhere in the interview, Fripp poured cold water on any talk of a reunion with King Crimson, saying that he was focused on touring his Sunday Lunch project – the tour that came out of his hugely popular lockdown covers with wife, Toyah Wilcox.
The post Robert Fripp recalls seeing an 18-year-old Ritchie Blackmore: "he had all the moves" appeared first on Guitar.com | All Things Guitar.
Source: www.guitar-bass.net