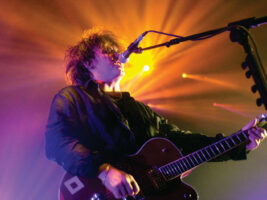 Robert Smith criticises Ticketmaster's "overpriced" face value tickets
The Cure's Robert Smith is no stranger to calling out Ticketmaster, and has taken to social media yet again over their "face value" tickets, which are costing fans nearly $1,400.
READ MORE: Phoebe Bridgers on internet bullying: "People who claim to like my music, fucking bullied me at the airport on the way to my father's funeral this year"
For context, Smith took to Twitter a few weeks ago, calling out the ticketing platform for it's "unduly high" service fees for tickets to his band's upcoming North America Tour.
He also declared that he was "sickened" by the high fees on the site, after the platform had promised to the band that they were going to keep prices affordable for their fans.
Yesterday (29 March), Smith took to Twitter yet again after fans claimed that tickets marked at face value are selling beyond the price of a standard ticket. According to Billboard, one fan shared the price of two face value tickets that cost almost $1,400.
"I am asking about the weird overpriced "face value" tickets that are popping up here and there", said Smith.
I AM ASKING ABOUT THE WEIRD OVER PRICED 'FACE VALUE' TICKETS THAT ARE POPPING UP HERE AND THERE… X
— ROBERT SMITH (@RobertSmith) March 29, 2023
Ticketmaster define the face value ticket exchange as "an artist driven marketplace where fans can sell their tickets to other fans at face value". However, considering that original tickets were around the $100 mark, there has clearly been an increase.
Earlier in March, Smith worked with Ticketmaster to issue small refunds to verified ticket buyers over the "unduly high" service fees.
"After further conversation, Ticketmaster have agreed with us that many of the fees being charged are unduly high," says Smith. "As a gesture of goodwill have offered a $10 per ticket refund to all verified fan accounts for Lowest Ticket Price ('LTP') transactions."
It is unknown whether they will take any futher action to reduce the price of the "face value" tickets.
The post Robert Smith criticises Ticketmaster's "overpriced" face value tickets appeared first on Guitar.com | All Things Guitar.
Source: www.guitar-bass.net