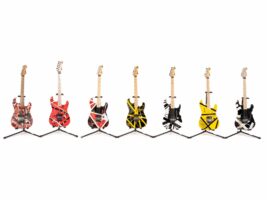 Seven Eddie Van Halen Art Series guitars go up for auction
Seven Eddie Van Halen Charvel Art Series guitars have gone up for auction, including six stage-played and signed axes from the man himself.
READ MORE: Haunted manor owned by Aleister Crowley and Jimmy Page is opening to tourists
The collection is accompanied by a Chip Ellis-build Fender Custom Shop Frankenstein copy – named "Frankie 2".
All seven of the guitars are being offered as one lot, rather than seven separate purchased, for a minimum reserve price of $525,000. However, it is estimated to be sold for upwards of $750,000.
The lot is being auctioned by Anlogr. Previously, Julien's Auction sold one Charvel EVH Art Series guitar for just over $114,000 – meaning, in a way, seven guitars for half a million dollars seems quite reasonable.
The guitars are the product of Van Halen's collaboration with Fender in 2004, who released the Art Series guitars under their Charvel brand. Van Halen himself has noted that he marketed these guitars specifically to be sold on the Internet through auctions.
In 2006, Fender created the Frank 2, which was a production replica of the original Frankenstrat. Master builder Chip Ellis and Fender created a small number of clones, which were reportedly used extensively during the 2007 tour. However, this specific guitar was not stage played.
Regarding the six touring guitars, they were used by EVH on three tours, in 2004, 2007, and 2012.
All six guitars have near identical specifications, with a Stratocaster-style solid basswood body, a hard maple neck and fingerboard, an EVH bridge humbucker made by Fender, an original Floyd Rose tremolo, and a volume control labelled "tone".
The lot also includes a variety of images of EVH playing the different axes, as well as tour memorabilia such as tickets, and guitar straps.
Certifications of authenticity are being provided to the lucky winner of the auction.
For more information, you can head to Analogr.com.
The post Seven Eddie Van Halen Art Series guitars go up for auction appeared first on Guitar.com | All Things Guitar.
Source: www.guitar-bass.net