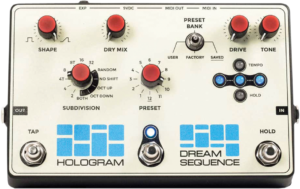 Six Of The Best: Sci-Fi Effects Pedals
A sextet of futuristic-sounding effects pedals that will either propel your guitar to a new frontier of sonic possibility or make it sound like a deranged robot…
Perhaps you're a guitarist who plays in a band with an electronic aspect to its sound; perhaps you want to use your guitar to add some organic atmospherics to a piece of soundtrack work; or perhaps you're a compulsive knob-twiddler attracted to the more experimental end of the sonic spectrum.
Whichever it is, there's no shortage of sonic adventures to be had in the guitar world, courtesy of those pioneering people at boutique FX companies – mostly in lab coats, mostly in underground lairs, many of whom haven't slept for weeks on end – beavering away in the darkness to bring us their latest sophisticated box of sonic mystery.
Here are six of our favourite recently released exotic sound manipulators with a science-fiction flavour…Death By Audio Reverberation Machine
Price £199Contact Six Of The Best: Sci-Fi Effects Pedals appeared first on Guitar & Bass.
Source: www.guitar-bass.net