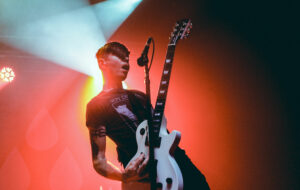 "Sometimes I just want an epic stack of guitar that sounds like a wall of noise": AFI's Jade Puget on new album Bodies
It's been a uniquely strange last 18 months for all of us, but for musicians especially – instantly grounding members of a profession used to spending half the year or more on the road playing gigs in front of fans the world over. For veteran Californian punk-rockers AFI, however, the outbreak of the pandemic presented another dilemma. The four-piece had just put the finishing touches on their 11th studio album, but with the world shutting down they knew that there was little chance that they'd be able to share it with the band's hugely devoted fanbase in a live setting. Bodies was put on ice, in the hope that normalcy would soon return, but they couldn't wait forever.
READ MORE: "What's the point of putting a guitar on the wall and not playing it?": Bloc Party's Kele Okereke on embracing the instrument on solo LP
"We were like, 'Well, we don't want to release this and not be able to tour, so let's just wait and see what happens,'" Jade Puget, the band's guitarist, co-songwriter and producer tells us from his home in California. "And then when it became clear that nothing was going to happen for a while we just went, 'We gotta put this out!'"
Bodies arrived belatedly in early June 2021, and in contrast to 2017's self-titled The Blood Album, which saw Puget and frontman Davey Havok lean heavily into the post-punk and new wave sounds that had inspired them as teenagers, the band's 11th full-length (and eighth since Puget joined the band in 1998) is something of a trip down memory lane. Throughout it's 11 tracks you'll find nods to the various sonic territories the band has explored over their first near-quarter of a century, from hardcore and spooky punk of their early years to the polished, dramatic, electro-infused sounds that made the band Platinum-sellers in the early 2000s.
It will make for a fun listening experience for longtime fans, but Puget admits the effect was totally unintentional.
"I think it's more songwriting ADD in a way," Puget shrugs. "I get bored of writing the same thing and so I kinda jump around and write in all different styles. And luckily Davey will follow me in my musical perambulations, if you will. So it ends up just being a grab-bag of all my influences. And sometimes that's good, sometimes it's not, dude. Sometimes we wanna hear an album like Nevermind where all the songs sound very cohesive, and sometimes you wanna hear something eclectic. I think we're giving fans eclectic on this one."
Bleed black
Puget's addition to the band will always be regarded as a turning point in the history of AFI, as it coincided with a radical shift in sound from a traditional west coast hardcore to the majestic, gothic 'spooky punk' that would propel them to major label stardom. The temptation is to give Puget the credit for that, but the truth is altogether more serendipitous.
"It's strange, y'know, before I joined AFI I wasn't really writing stylistically like that," he reflects. "But when I joined, Davey and I both took this turn at the same time, just by being together – it was strange. Actually one of the reasons we were so successful together as songwriters was that we both recognised something in the other, and it dovetailed so perfectly with what we each wanted to do – and it was that sound.
"When I joined the band I was a little trepidatious – this is an established band. I could ruin the band by writing a bunch of terrible songs! On the first day that I got asked to join, we sat down and started writing immediately, and stuff started pouring out. The first song we wrote was Malleus Maleficarum off of Black Sails [In The Sunset, 1999]. I had the chorus that I'd already written before, so I was like 'I've got this one chord progression here…' And we just went off and wrote that song straight out and we were both kind of in awe like, 'Woah! We can do this together. We've never even written a single note together before!' But, we never, ever thought about direction – to this day! Y'know, we just sit down and write and whatever comes out is the direction we're going."
Puget and Havok would continue to refine their songwriting chops on 2000's critically acclaimed The Art Of Drowning before making the jump to a major label, David Geffen's Dreamworks, in time to craft their masterpiece, Sing The Sorrow in 2003. As well as representing a critical and commercial high watermark for the band, Sing The Sorrow would be hugely influential on the alternative scene that came after, deftly fusing electronic influences with punk and hardcore in a way rarely seen before, but would go on to become hugely commonplace in the emo scene throughout the rest of the decade.
"That was the great thing about that era of AFI, I wasn't scared to do anything," Jade says. "I was ready to try any wacky idea – if I'd thought it was a good idea to have a reggae part in [STS's proto-screamo third track] Bleed Black I would've done that, y'know? Whatever seemed the most creative, and cool, and interesting thing I was gonna do. There was this movement at the beginning of the 2000s that was a lot of EDM and futurepop music coming out of mainly Europe, with bands like VNV Nation and Apoptygma Berzerk. Davey and I were really heavily listening to a lot of that stuff, so I was really happy to be able to get a chance to inject some of that into our music."
Crash love
Puget's remit in AFI has gradually expanded over the years – as well as contributing synths and keyboards, and handling 50 per cent of the writing, as of Bodies, Jade has taken sole possession of the producer's chair for the first time. But guitar remains his first love and primary musical tool, a love affair that dates back to a bout of childhood illness that would have huge ramifications.
"When I was in high school I got mono, and so I had to stay home from school for like two months," Jade recalls. "I just had this old beat-up acoustic, and one day I just picked it up and started playing, because I had nothing else to do. And in that moment, I realised, 'Wow, I love guitar and I love guitar playing and this is like, this happy accident and this epiphany – I just love to do this.'"
These acoustic beginnings would have an interesting effect on the young Jade's guitar habits, however.
"At that point I was a punk, I looked like a punk, and I listened to punk music," he says. "But when it came to guitar music, I loved blues – like BB King, Robert Johnson, those were the things that really moved me. And I never really got into the rock-god y'know, shredder dudes for some reason? Maybe it's because I was into punk a lot but it was the blues guitar players. I'm sure it influenced me. Y'know sitting there as a very novice guitar player trying to figure out Robert Johnson – people still haven't figured out how he did what he did! – I'm sure that still filters in a little bit."
Image: Josh Massie
He might not have got into the rock-god guitar players, but that doesn't mean Jade didn't spend a fair amount of time in the woodshed making sure his chops were up to scratch in case he ever needed them – just listen to STS's Dancing Through Misery to hear Jade break out lightning arpeggios, two-handed tapping and butter-smooth legato and searing rock bends in one frenetic burst of technicality, but it's only ever a fleeting moment.
"I might not have been influenced by shredder guitar players but I do love to shred!" Jade exclaims. "Like sometimes I'll sit at my guitar and just solo for like an hour – it's really fun! And there are several AFI songs where I just let loose on a solo, but if I did it in every song it would be a little obtrusive and a little boring I think, so I save it.
"There's lots of amazing guitar players and there's lots of shredder guys and virtuosos out there. I'll watch that kind of stuff because I've always been interested in virtuosity on any instrument. Like Tosin Abasi and people like that – it's fun to watch those guys play but, it's just never really been my cup of tea y'know?
"If I'm in the car, I'm not going to listen to a guitar solo… but I love to watch them. In fact last night I was watching some Steve Vai live thing, and it's so interesting to watch these guys that are just so proficient in doing these things that, y'know, I don't do."
Image: Jacob Boll
The conductor
Puget is never less than an electric live stage performer, and it's impossible to picture him pirouetting across the stage without also putting his calling card Gibson Les Paul Studio in his hands. Gibson's most affordable twin-pickup guitar often gets a bad rep as an entry-level guitar, but for Jade, the stripped-back instrument has been a constant friend, almost from the start.
"My dad had Les Paul Studio – like this beautiful Oxblood Les Paul Studio – that he bought and he never used," Jade recalls. "And he gave it to me. So for a first guitar, it was amazing because it was like I was starting off, sort of at the top. That really was an important watershed moment for me because I got into my first band and I had a good piece of gear! I wasn't playing some $150, cheap, piece of crap, guitar. And it also started my lifelong love of Les Pauls."
For most players the Studio is a stepping stone to buying an 'real' Les Paul, but that's never been the case for Jade, and decades later, the Studio is still his go-to.
"I never even thought like, 'Oh now I've got a few dollars in the bank I can buy a Standard, or I can buy some vintage Les Paul or something'," he insists. "I was just like, 'Hey! I'll get another Studio!' And y'know, they're nice onstage because they aren't super heavy and I move around a lot, so I can't have a big tank around my neck. So, yeah, I just kinda stuck to the Studios."
Image: Jacob Boll
For the guitar sounds on Bodies however, Jade relied on the chambered Gibson Custom 'Cloud 9' Les Paul Standard he's used as his main studio guitar for several years, as well as a Yamaha Revstar and a Schecter UltraCure Robert Smith signature – the first time he's ever used a guitar with a tremolo on record.
"There's so many tools that I don't want to just limit myself to one thing," he says. "Of course, the Les Paul will always be my go-to guitar, but when I've got all these different weapons and all these different tools around me y'know, I gotta use whatever is appropriate."
If Jade's guitar choices are fairly consistent, what he puts those guitars through is not – a long-time in-the-box convert, many of the guitar sounds on record are created using plugins and recording software. Traditional, this ain't.
"I think once I got more in the box, this whole world opened up," he enthuses. "It's so creative and interesting with guitar if I don't have to just plug in a load of stompboxes and be like, 'Well let's see how I can run this gain pedal, into this delay pedal…' Now, I can use endless effects that weren't meant for guitar… or weren't meant for anything, and just chain them together. You can get really creative and make sounds that have never been made before because no-one's ever done this with this combination of effects. So that whole thing is really attractive to someone who just loves to write."
Jade is clearly a man who likes to have options on a record, and that's reflected in the dense, layered guitar tracks that often appear on AFI records.
"Sometimes I'll have four guitar lines going and just run them together. Our mixer was definitely not super psyched for some of the stacks I gave him to mix! I do try to edit myself, I honestly do," he chuckles. "But I am just an inveterate stacker and I can't help it – I wish I had more powerful self-editing capabilities. But, sometimes I just want an epic stack of guitar that just sounds like a wall of noise! Sometimes I realise that something might actually sound bigger or have more clarity if I just had one or two guitar parts. But then I'm like, 'Y'know what, this guitar part sounds good… hey this one sounds good too! Let me put one more on there and we're good to go…' So I think we're just going to have to live with it."
Image: Josh Massie
I heard a voice
These days it's commonplace for touring bands to go all-digital in their live setup, and Jade was an early trailblazer of this, using Line 6 PODs for live clean tones back in the days when Fractal, Neural DSP and Kemper had even been thought of. It's surprising then to hear that 2021 Jade remains a dyed in the wool tube amp disciple, relying on his trusty Diamond Nitrox amps to provide the punch on stage.
"I've tried a Kemper and I've tried the Fractal, 'cos I always hear people saying like, 'The Edge only uses Kemper now!' or like, 'Woah man! If that amazing, legendary guitar player is using it then it's gotta be good.' Jade says. "And then I'll try it, and it just will not work for me. I can't get it to sound the same as having a tube amp pushing air, from a cab onstage. And maybe it's my failing as a guitar player. Maybe you need to play through those things a certain way or program them a certain way to get them to sound their best. But I always just end up going back to my tube amps."
"But if the Beatles were starting out today, they would totally be using a Fractal or a Kemper, or Jimmy Page for that matter. They would be totally using all the newest technology, because that's what they were doing in their time – using all the craziest technologies and cutting edge stuff. I mean, it's just the nature of people that want to get creative with the instrument."
Jade might not be willing to make that same jump just yet, but there is one exception…
"There's this one guitar sound that I love, that I've used a lot, and it's from Guitar Rig – the Native Instruments plug-in – and I've tried to recreate it live with all these pedals and all these different things and I could never get it. So the last tour we did with Smashing Pumpkins, I was like, 'Y'know what, I'm just gonna bring a little laptop and have Guitar Rig with that patch running on the side of the stage, and have a separate line that goes to it so when I want to play that tone, I can just hit this a switch that turns that laptop on and I'm playing through that.' So I did, and it was great!"
With all this talk of stacking and dense guitar parts, it's worth remembering that asides from rhythm section Hunter Burgan and Adam Carson, Jade is the only person playing an instrument on stage when AFI perform live. Given the myriad guitar parts on record and how common it is for rock bands to used triggered backing tracks to thicken up the live sound, we wonder if he's ever been tempted?
Image: Jacob Boll
"I kinda take the Beatles approach where we're gonna do whatever we want to do in the studio and not worry about translating it live," Jade insists. "Because you can't let your creativity be hampered by worrying about how you're going to translate that to the stage. If there's like big synth parts that we can run a backing track to, we do that. We've been doing that for a long time. But as far as guitar goes, I'm not going to pipe in a bunch of pre-recorded guitar tracks to play to, because that's just not my style. I just play like I've always played and it seems to work so. I really don't think that we sound thin on stage, on any songs. I think that it always translates pretty well."
The fact that it does translate so well is even more impressive given Puget's tendency to rarely play something obvious when his guitar can be providing melodic counterpoint to the vocals.
"I never thought about that, but I realise now I rarely ever play straight chords in a verse," Jade says. "I think it's just because it's boring to me – it's more fun to noodle around a little bit. Without trying to step on the vocal or anything, a little melodic hook is always going to be more interesting to the ear than just motoring through with some palm mutes or something.
"But I'm still always playing rhythm. I'm playing all the strings all the time, and so I sound as big as I can. Like, even when I'm playing a lead I'll add a drone string, and my leads often have more than one string anyway, it's not like I'm playing way up on the neck on the one string.
"I've always tried to play as full as I can. I think I kinda learned that from listening to Robert Johnson and reading about him – how it sounded like he was two guitar players – I just found a way to translate that idea into how I play, because I knew I was going to be the only guy."
Despair faction
Bodies might have arrived a year later than planned, and AFI might still have to wait a while before they can bring the album to fans in the way Jade would like. But the connection between the band and its hugely devoted fanbase remains as strong as ever, and quite unusual for bands that exploded into big radio success at the turn of the millennium.
"I think it just goes back to how we started – as a punk band," Jade says of that spirit of fraternity. "We never had any delusions of grandeur or any attempts at glory. We would play and Davey would run off stage after the last song and go to the merch booth and sell t-shirts. And we always mingled with the fans and they were more like friends rather than y'know, 'You're the fans and we're the band. We're on stage and you're in the crowd.' It was that punk ethos that we came from. And that's still part of how I think we approach the fans."
As for what's next for Jade, who has also released five albums with Havok as electronic duo Blaqk Audio, the pandemic gave him the chance to be productive to an extent that he doesn't even want to tell his bandmates about it.
"I've written over 70 new AFI songs with top lines and everything," Jade reveals, putting even the most productive lockdown achievers in the shade. "I've actually been trying not to tell the other guys about it, because we haven't even put out this album yet! So I don't think they wanna hear about the next album… but to me I'm already onto the next thing because that's just how I operate.
"Actually, Davey called me a couple of nights ago and was like, 'Hey! What do you think about, y'know, writing some new Blaqk Audio?' And I'm like, 'Oh yeah here, I've got uh… 20 songs… I'm always just nose to the grindstone, and it's just nice to have an outlet for this stuff."
Bodies is out now on Rise Records.
The post "Sometimes I just want an epic stack of guitar that sounds like a wall of noise": AFI's Jade Puget on new album Bodies appeared first on Guitar.com | All Things Guitar.
Source: www.guitar-bass.net