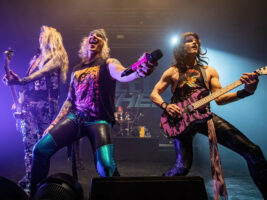 Steel Panther frontman Michael Starr admits to lip-syncing onstage: "I'm not ashamed of that, man!"
Steel Panther's Michael Starr says he sometimes lip-syncs onstage, and he's "not ashamed" because it "enhances the whole live experience."
READ MORE: Watch: Keith Richards joins Willie Nelson onstage for memorable 90th birthday gig
Appearing on Justin Hawkins' podcast recently, Starr revealed he feels comfortable using backing tracks and lip-syncing onstage if it means the performance runs smoother.
He said: "We tried to make the tracks subtle. So you hear them almost subliminally… Some of the choruses are doubled and I'll sing over them so it gives that double effect. And then some, there's just blatant cheaters in there where I just lip-sync to. I'm not ashamed of that, man!
"But all joking aside, it just enhances the whole live experience. And we truly thought about, 'Okay, let's bring a keyboard player out.' That way, they can hit one note during a chorus and play the shaker and do all that. And then we thought, 'Well, that's just going to take out of our bottom line.'
"So we just hired a multitrack and just put that on there. It was way cheaper. No per diems."
The American singer also touched on the time Steel Panther toured with Def Leppard and Mötley Crüe even though the latter weren't keen on having them there.
But Andy Copping, who booked them the gig, had the comedic glam band's back: "Andy said, 'No, they're going to be on the tour. And that's the end of it.' And we were on it."
The post Steel Panther frontman Michael Starr admits to lip-syncing onstage: "I'm not ashamed of that, man!" appeared first on Guitar.com | All Things Guitar.
Source: www.guitar-bass.net