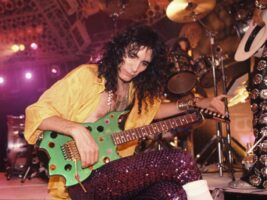 Steve Vai's missing "Swiss Cheese" guitar found in a Tijuana attic after 36 years
Steve Vai has finally been reunited with his missing "Swiss Cheese" guitar made by Joe Despangi after 36 years, after it was found in an attic in Tijuana, Mexico.
READ MORE: Brian May doesn't think Queen performed their best at iconic Live Aid concert: "I was conscious that it was a bit ragged"
The guitarist took to Facebook to announce that his custom axe, which was used in the original Yankee Rose video while he was with David Lee Roth, has finally been located after it was stolen from a Pasadena, California rehearsal space in 1986.
According to the post, the guitar was discovered by Iván Gonzáles Acosta in the attic of his grandparents home in Tijuana, Mexico, which borders the US state of California. It appears that the people that lived in the house before his grandparents acquired the lost guitar, and it was left in the attic.
After finding the custom build green and pink guitar, Acosta posted it on Jemsite, an Ibanez user's forum, under the title "I found the lost guitar of Steve Vai", before asking for Vai's contact details so he could make arrangements for the return of the guitar.
In Vai's post he also mentioned that the condition of the guitar itself was impressive, "The condition of the guitar when I saw it was a shocker. It's as if it was put in the case and never played for 36 years," Vai wrote in his post. "The colours are still vibrant and the neck is in great shape."
"Thank you Ivan for your kind consideration and for reuniting me with this piece of my history. Receiving this guitar feels like an old friend has returned home after so many years to jam with me.
You can see the full post below:

The post Steve Vai's missing "Swiss Cheese" guitar found in a Tijuana attic after 36 years appeared first on Guitar.com | All Things Guitar.
Source: www.guitar-bass.net