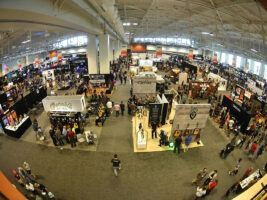 Summer NAMM 2021: New guitars, pedals, amps and more
NAMM is back! After two cancelled events, the trade show returns this summer for a two-day, in-person event in Nashville, Tennessee. Guitar.com will be in attendance, so check back here for the latest from Summer NAMM 2021.
When is Summer NAMM 2021?
Summer NAMM 2021 will take place on 15 and 16 July at its usual home: the Music City Center in Nashville.
Summer NAMM 2020 and Winter NAMM 2021 were both nixed due to concerns over COVID-19, so this event marks the first time in about a year and a half that the musical instruments industry can gather at a large scale.
Which brands will be at Summer NAMM 2021?
The big boys like Gibson, Taylor, Martin, Gretsch, Yamaha, Peavey and IK Multimedia are all heading to Nashville – with the notable exception of Fender and PRS Guitars (last-minute announcements notwithstanding).
As is the case for all Summer NAMM editions, many smaller or boutique builders will also feature at the event – Red Panda, ValveTrain Amplification and Walrus Audio are among them.
How can I attend Summer NAMM 2021, and what are the COVID-safety measures in place?
Members of the public must register to attend Summer NAMM 2021 here.
NAMM has worked with the city and local authorities, following international guidance, to ensure a COVID-safe event – or what the organisation dubs "Safe And Sound" guidelines. As part of this, there will be a reimagined floor plan, touchless experiences, daily deep cleaning and other best practices. You can find out more about Safe And Sound here.
New gear you can expect at Summer NAMM 2021:
Could IK Multimedia be launching a hardware modeller at Summer NAMM 2021?
Gibson may launch a new USA Standard version of Tool guitarist Adam Jones' signature Les Paul, as well as a pair of limited-edition korina Murphy Lab guitars.
Gibson has also unveiled the Exclusives Collection, a set of special editions of its 2021 electric guitars finished in either Olive Drab or Ebony.
We might get a glimpse of the Gibson Custom Shop's special signature model Marcus King.
Epiphone has announced the return of the USA-made Frontier.
Gretsch has a wealth of electric guitars planned for 2021, including a spread of hollowbody models for the Players Edition series and a Signature Falcon for Richard Fortus. The brand also has Gretsch has officially launched its new semi-hollow Streamliner models.
Peavey has introduced the new version of the affordable Delta Woods range of acoustic guitars
Walrus Audio has launched a new flanger pedal, the Polychrome.
What about new Fender gear for 2021?
While Fender and its brands, barring Gretsch, are not among the exhibitors for Summer NAMM 2021, the brand has announced a whole lotta gear for the year. Here they are:
Fender Tone Master Super Reverb
Fender Duel Pugilist and Dual Marine Layer
Fender signature models, including guitars for Kurt Cobain and Primal Scream
Jackson So-Cal 2PT, a signature guitar for Misha Mansoor
Squier's refreshed Affinity range
Charvel signature models for Guthrie Govan and Rick Graham
EVH 5150 Iconic
Jackson Pro Series signatures for Chris Broderick
Fender California Mini
Fender accessories: glow-in-the-dark cables, pedalboards and more
The post Summer NAMM 2021: New guitars, pedals, amps and more appeared first on Guitar.com | All Things Guitar.
Source: www.guitar-bass.net