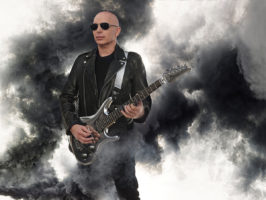 Talkbox: Joe Satriani
The shred legend on underground reasearch stations, Avocado Sunbursts and seductively out of tune guitars…1. I couldn't live without my…
"I fall in and out of love with guitars and amps constantly. Perhaps it's a physical thing… Maybe it's mystical! Don't you hate when guitarists talk like that? I do. The last few years has seen me closest to my Ibanez JS2410 MCO #1. It has a lower output, and that seems to inspire better phrasing, or maybe it's just my imagination!"
2. In another life I'd have been…
"I would not have sought out a profession in the public eye. Put me in an underground research lab, space station, arctic outpost… I'll never work out my love of performing and my shyness. They should work against each other, but they enhance my experience by making it so cathartic and meaningful. Why are guitarists so strange? That's the real question."
3. The moment it all started…
"I was eight or nine when I saw a covers band playing Satisfaction. That changed my life forever. My parents were dropping off my older sisters at a dance and let me stand at the door for a minute and watch the band play. I was mesmerized by the whole scene."
4. The one that got away…
"The ones that were stolen are still missed, especially my Donnie Hunt JS and one of my original JS Chrome guitars. I once owned a '54 hardtail Strat that had the most unusual green sunburst refinish. The guys at the shop called it 'Avocado Sunburst'. Very California. I recorded my first EP with it. I sold it to one of my students… I hope he's taking good care of it."
5. My Spinal Tap moment…
"In the early 90s I played on Alice Cooper's Hey Stoopid album. The sessions went great, but at a guest appearance at the Shoreline Amphitheatre, things went screwy. I was announced, I walked out – in a leather jacket and cycling pants – plugged in and for 10 minutes, not one sound came out of the amp! I shrunk to the size of a small insect and crawled off stage after taking a humiliating bow with Alice and the band. Lesson learned: never wear cycling pants to a gig!"6. The best advice I've ever been given…
"'Never forget what they've done to you, but, never show them you remember'. I saw that on a poster called the '10 Rules of Show Business' in the men's room at the offices of my former manager Bill Graham in San Francisco. The others were good, too – such as 'Get the money', followed by, 'Don't forget to get the money'!"
7. The first thing I play when I pick up a guitar…
"I've been forcing myself to always tune up first. You'd be surprised how seductive an out-of-tune guitar is. It feels so cool to just pick it up and play whatever the fuck you want! But if you then stop for a moment and tune up, somehow, a little bit of the mojo goes away!"
8. The most important thing on my rider…
"A good bag of potato chips, salted, no extra flavouring. Whatever you do, do not mess with my chips."
9. My guilty pleasure…
"A few tours back I was overwhelmed with nostalgia for my ELP days. I still love those records. Come to think of it, I don't feel guilty about them at all."
10. If I could play one thing…
"I can play just about any Hendrix song, but when you get down to it, I can't play them right. Nobody can. Only Jimi could do Jimi right. It's impossible to decode his magic."
Joe Satriani's new album, What Happens Next, is out 12 January on Legacy Recordings/Sony Music.The post Talkbox: Joe Satriani appeared first on The Guitar Magazine.
Source: www.guitar-bass.net