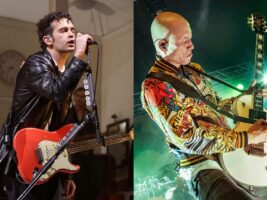 The 1975 fan accidentally buys cameo from Trivium's Matt Heafy
A fan of British pop-rock supergroup The 1975 has shared his shock as he accidentally bought a Cameo from Trivium's Matt Heafy – instead of The 1795's frontman Matty Healy.
READ MORE: Twisted Sister guitarist explains why Jeff Beck was possibly the 'world's greatest guitarist': "He kept evolving… Jimmy Page got worse as time went on"
The fan, named Colin, tried to buy his friend a special gift to celebrate the start of 2023, and was shocked to see Matty Healy selling Cameos, which is a personalised video service sent from celebrities, for only £75.
However, to his surprise, it wasn't Matty Healy, but Matt Heafy.
"I went on Cameo, as you do, to look at the options, great options, great Cameos," explains Colin in a video since shared by Matt Heafy himself. "And suddenly, Matt Healy shows up, and I'm like, 'No way he's doing Cameos for $75.' I was like, 'That is wild. That is wild.'"
"A couple of days later, I receive this," chuckles Colin, sharing a message that confirms he has actually received a personalised Cameo from our beloved heavy metal hero instead. "Yeah," Colin adds. "Matthew Heafy. From Trivium."
In a video posted to TikTok, Colin describes the clip as "the nicest message ever received on Cameo", in which the musician wishes both Colin and his friend well, and acknowledges their love of "raw steak", a The 1975 inside joke presumably derived from Matty Healy eating raw meat on stage, something Heafy may not have caught on to.
You can watch the series of unfortunate but sweet events below:
View this post on Instagram
A post shared by Matthew kiichichaos Heafy (@matthewkheafy)
Both bands are currently on tour, with The 1975 performing around the UK to promote their newest record, while Trivium are in the midst of a tour around mainland Europe with Heaven Shall Burn, Obituary and Malevolence.
The post The 1975 fan accidentally buys cameo from Trivium's Matt Heafy appeared first on Guitar.com | All Things Guitar.
Source: www.guitar-bass.net