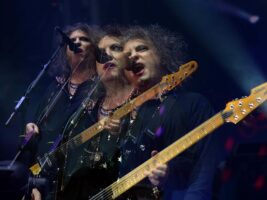 The Cure announce 2023 North American tour
The Cure has announced that they will be taking on North America in 2023, as they embark on the Lost World Tour.
READ MORE: Jeff Beck tribute concert featuring Eric Clapton, Johnny Depp and more to take place this spring
The tour will see the band cross The Atlantic and play three dates apiece at Los Angeles' Hollywood Bowl and New York's Madison Square Garden, before finishing in Miami, Florida.
They are being supported on the road by longtime tour-mates the Twilight Sad.
This comes months after speculation that a new Cure album could be coming our way, with frontman Robert Smith teasing it throughout the past years. When he was inducted into the Rock and Roll Hall of Fame in 2019 he even said that he was "optimistic it will be finished before the start of this summer". Well, it's been almost four years and it still hasn't materialised.
Their last album, 4:13 Dream, was released over 15 years ago in 2008, but in recent years Smith has collaborated with the likes of the Gorillaz, Chvrches and Deftones. Just this week Smith released a mix of Noel Gallagher's Pretty Boy.
In more The Cure news, Paul Weller made headlines in recent months after calling Smith a "fucking fat c*nt" in a rather harsh personal attack.
In a new interview in the print issue of Record Collector, it is suggested to Weller that one of the songs on Noel Gallagher's upcoming album sounds a lot like The Cure's A Forest. The writer describes that Weller then reacted with a mix of "incredulity and revulsion."
"Really??!" Weller then asked. "I can't fucking stand them. Fucking fat cunt, with his lipstick and all that bollocks. He is my age as well, isn't he?"
It is unclear why Weller has such a strong hatred for the singer, but at least that's one less person to fight against to get The Cure tickets this summer.
For information about the Lost World Tour, head to TheCure.com.
The post The Cure announce 2023 North American tour appeared first on Guitar.com | All Things Guitar.
Source: www.guitar-bass.net