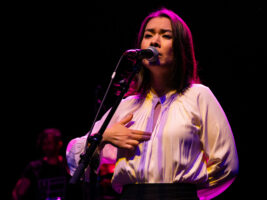 The Genius Of… Be the Cowboy by Mitski
By the time Mitski released Be the Cowboy in August 2018, she had already amassed a sizeable cult following.
READ MORE: The Genius Of… The Great Escape by Blur
The Japan-born, America-raised singer-songwriter released her first and second albums, Lush and Retired from Sad, New Career in Business, in 2012 and 2013 respectively, while studying studio composition at SUNY Purchase College's Conservatory of Music.
2016's Puberty 2, Mitski's fourth album, was critically acclaimed. She stated in an interview that after the release of 2014's Bury Me at Makeout Creek, and its subsequent success, she felt out of touch with music and so returned to her roots with the following album, incorporating elements from all three of her previous records.
Her combination of baroque pop, folk, art rock and punk over the last decade has been a big success, resonating with millennials, and she occupied a sweet spot between underground and household name.
And when Be the Cowboy came out, people loved it. It was critically acclaimed, with numerous publications ranking it the best album, or among the best, of 2018. It was followed by Laurel Hell, released in February 2022. Another very highly-rated album, continuing Mitski's reputation of being a critical darling.
On Be the Cowboy four years prior, Mitski also saw a return to the piano – something she'd featured on her first two albums – as well as synths, horns, and of course her guitar. It has something of a softer sound than Puberty 2, with less distortion and a cleaner, more precise feel.
Mitski performing at FORM Arcosanti in 2018. Image: Tim Mosenfelder/Getty Images
She explained that the album was about reconnecting with her feelings, and along with longtime producer Patrick Hyland, who she met while at college, they didn't layer her vocals as they wanted to give the impression of someone singing alone on stage – something that works to great effect.
Geyser was the album's lead single, despite being somewhat unconventional in its style. Mitski went against the standard verse-chorus-verse format, instead centring around three rather disparate hooks. It was a song she began writing in college, but after years of feeling it wasn't quite right, she finally made herself finish it.
However, it was dwarfed in popularity by Nobody, which would be released the next month. While it's a song about loneliness, the music is surprisingly upbeat, and a number of publications described it as one of the highlights of the album.
Two Slow Dancers was the final track to be released as a single. The album closer, it's a synthy ballad about childhood romance and the nostalgia wrapped up in it. It's not as popular as the other two singles – Nobody in particular, of course – and in some ways it's a curious choice for a single, but at the same time it shows off her impressive vocal prowess.
Mitski performing at the 2018 Ally Coalition Talent Show in New York City. Image: Taylor Hill/Getty Images
Mitski is one of the most talented singer-songwriters around. She might not be at global superstar status, but what began as a cult following – she still has very dedicated fans – has expanded over time, and Be the Cowboy was essential in this happening.
She boasts over 10 million monthly listeners on Spotify – not something to be sniffed at – and her most listened-to song is Washing Machine Heart, Be the Cowboy's twelfth track. It's not even a single, but it's sometimes considered her signature song. This has been helped by TikTok, where sped-up and slowed-down remixes of the track have gone viral.
But even putting TikTok aside, it's easy to see why it's so popular. It clocks in at just over two minutes – so it's not too long – and it's infectiously catchy and radio-friendly. But at the same time, it's arty and experimental enough to feel very 'Mitski', from the bleeping synths to her use of solmisation in the latter half of the track.
And on the Be the Cowboy tour, a big change was that Mitski stopped playing the bright pink guitar that had become a trademark of her life performances.
Mitski performing at O2 Shepherd's Bush Empire in 2018. Image: Lorne Thomson/Redferns via Getty Images
At the same time, she was working with the performance artist and movement coach Monica Mirabile to develop choreography for each song – they had a particular interest in Butoh, a form of dance theatre that originated in Japan around 65 years ago.
She's often known for her unconventional behavior and dancing on stage, exemplified by the reaction from some Harry Styles fans when she supported him last year – and she also gained media attention for requesting that fans don't film her live shows and instead experience the show in the moment.
She's a very unique artist, and does things her own way. That's been the case throughout her career, from her 2012 debut Lush to last year's Laurel Hell. The question of which of her albums has been the most important is a divisive one, with her last four all having a strong case, but Be the Cowboy has a strong one for helping to propel her into the mainstream – with Laurel Hell helping her stay there.
The post The Genius Of… Be the Cowboy by Mitski appeared first on Guitar.com | All Things Guitar.
Source: www.guitar-bass.net