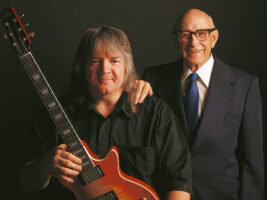 The Genius of Seth Lover
In the budding years of the electric solidbody guitar, players were forced to deal with the annoying 60-cycle hum and interference that single-coil pickups remain prone to. That is, of course, until 1955 when a man named Seth Lover designed a pickup that used two coils wired out of phase with eachother, thusly cancelling [or "bucking"] the 60-cycle-hum – today we know these pickups as humbuckers.
READ MORE: The Genius Of… Sing the Word Hope in Four-Part Harmony by Maybeshewill
Lover's interest in electronics began when he was just a teenager, living in Kalamazoo, Michigan, he ended up getting a job testing amplifiers at the local Gibson factory. He left Gibson to join the Navy and fight in WWII but returned to work at Gibson after the war, creating the "Staple" pickup in 1952 which was used in the flagship Les Paul Customs as well as some of the jazz hollowbodies.
The idea for the humbucker was an adaptation on an amplifier circuit Lover had created on an amp called the Model 90 in the early 1950s, which had a hum-cancelling choke that operated on the same principle of putting two coils opposed to eachother. He applied the same idea to the guitar's pickups, many of his amplifier circuit designs are still in use today.
A patent for the design was submitted in 1955 and granted in 1959 – during that span, the humbucker was known as a P.A.F. [Patent Applied For] and it has since been revered as the holy grail of guitar tone. While this contribution to the industry may have been enough for some people, not Seth Lover. Lover worked for Gibson from 1952 to 1967 as a design engineer. During that time, he also created the first fuzztone distortion pedal – the Maestro FZ-1 Fuzz Tone which became an instant classic after its use on hits like Satisfaction by the Rolling Stones. Lover is also rumored to have been the genesis of the idea behind the Flying V design.
Eventually, Lover ended his tenure at Gibson and moved over to the company's biggest competitor, Fender, which had just been sold to CBS two years prior to Lover's arrival. According to Lover, he had been making $9,000 a year at Gibson and Fender offered him $12,000. While the pay was better, the creative freedom was not.
He designed a special effects guitar for Fender with a humbucking pickup somewhat based on another pickup he had designed for Epiphone called the P-19 mini-humbucker, which had a 3×3 pole configuration. The experimental new design used CuNiFe [An alloy comprised of Copper (Cu), Nickel (Ni), and Iron (Fe)] magnets instead of AlNiCo [Aluminum (Al), Nickel (Ni), and Cobalt (Co)]. The guitar also had a built-in octave generator, auto wah, and distortion circuits. While many musicians, especially session players, loved the design, but CBS Fender didn't want to market the guitar. According to Lover, if an idea didn't come from the "front office" they didn't want it. A common critique of Fender's CBS years was their focus on instrument marketability rather than instrument quality or innovation.
While the guitar itself was rejected, the pickups did end up having a future at Fender – CuNiFe Wide-Range Pickups were used from 1971 until 1979 on Telecaster Deluxe, Custom, Thinlines, and Starcasters. Production of the Wide Range pickups ceased at the same time those models were all discontinued. The CuNiFe alloy magnets were weaker than their AlNiCo counterparts, so they had to use more windings of wire to get an output similar to a traditional humbucker. As a result, wide-range pickups are larger than a humbucker and will not fit into a humbucker routing – perhaps this limited their use in instrument modification and customization. Even so, many musicians such as Keith Richards, Rich Robinson, Thom Yorke, and Billy Gibbons put Lover's new design to good use on classic records.
The newly designed Wide Range Pickups with CuNiFe magnets offered a tone similar to a humbucker, but with more clarity, thusly catapulting Fender into competition with Gibson in the world of humbucking pickups. Unfortunately, the pickups were discontinued after a relatively short eight year run.
When Fender began offering reissues of those guitars, the Wide Range Pickups were not the same – the magnets were either ceramic or AlNiCo depending on where they were made – typically the ones made in Japan were ceramic and the ones made in Mexico were AlNiCo. Furthermore, Wide Range pickups are designed to be used with 1M pots and most reissues used 250k pots, which drastically effected the tonal range of them. As a result, the reissues were not well-received and many people pointed to the failure to follow Lover's original design as the culprit. It wasn't until 2020 that Fender started making the Wide Range Pickups properly again, with CuNiFe magnets, according to Seth Lover' original design.
Seth Lover is far too often left out of conversations about great innovators in the world of electric guitar. He was often underappreciated by the people in the business offices where he worked, as he recalled in a 1996 interview with Vintage Guitar.
"Now here's an ad that Gibson ran on the 25th Anniversary of the patent for my pickup (displays a worn framed picture of a 1980 print ad for Gibson) promoting the company and recognizing how special my Gibson humbucking pickup was. There's a signature on here saying 'Seth Lover', but it's not mine. I contacted the company, and said, 'Gee, I would have signed the ad myself if you'd asked,' and they responded, 'We didn't know you were still alive!' (laughs)"
Its fair to say that Seth Lover never got as much credit as he deserved for his contribution to the definitive sounds of rock and roll. He did collaborate with Seymour Duncan on a faithful modern recreation of his original PAF design in 1994 – that pickup is the SH-55. It was through the marketing campaign for the new pickup that Lover finally received some of the credit that was due. Seth Lover passed away shortly after, in January of 1997 at the age of 87.
For more features, click here.
The post The Genius of Seth Lover appeared first on Guitar.com | All Things Guitar.
Source: www.guitar-bass.net