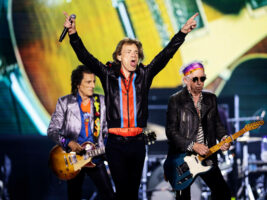 The Rolling Stones are already working on a follow-up to Hackney Diamonds
The Rolling Stones are already working on another album, despite the fact their most recently announced record, Hackney Diamonds, is yet to arrive.
The band announced the release, their first full-length album in 18 years, earlier this month. The record will land on 20 October 2023, and features former member Bill Wyman on one track, as well as some tracks recorded with the late drummer Charlie Watts.
READ MORE: This week's essential new guitar tracks playlist – Sprints, The Rolling Stones, Marnie Stern and more
But it turns out The Rolling Stones are quite literally on a roll, as they already have more music in the pipeline. Speaking to The New York Times, frontman Mick Jagger said that he doesn't think Hackney Diamonds will be "the last Rolling Stones album".
He went on to confirm that indeed a follow-up is currently in the works: "We've got almost three-quarters through the next one," he said in the interview.
The majority of Hackney Diamonds has been recorded with new drummer Steve Jordan. Watts, however, can still be heard on two tracks, titled Mess It Up and Live By The Sword, which were recorded in 2019. The latter also features Wyman on bass, meaning the band's original rhythm section has reunited for one final time.
Elsewhere in the interview, guitarist Keith Richards says, "Rhythm is the most important thing in your goddamn life. A lot of what you hear ain't what you hear — it's what you feel. And that's a matter of rhythm."
He adds, "There would have been a Rolling Stones without Charlie Watts, but without Charlie Watts there wouldn't have been the Rolling Stones. He was one of the warmest guys I ever, ever met, just so tolerant of other people. He would actually stop me from murdering people. When I just thought his name, I started to weep. Thanks for bringing me to tears."
The lead single from the new release, Angry, has already landed. You can watch the full music video below:
Hackney Diamonds is released on 20 October 2023, find out more on the official website of The Rolling Stones.
The post The Rolling Stones are already working on a follow-up to Hackney Diamonds appeared first on Guitar.com | All Things Guitar.
Source: www.guitar-bass.net