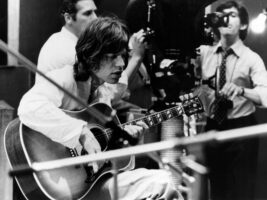 The Rolling Stones share short documentary about their mobile recording studio
The Rolling Stones have given fans an insight into their iconic, custom-built mobile studio, which is credited as changing the world of recording.
READ MORE: Roger Waters defends David Gilmour's guitar solos, claims he was misquoted as calling them "horrible"
The documentary was shared by the band's official YouTube channel on Saturday (18 February), and provides a brief insight into how the famous recording studio came into existence.
Regarded as the "most important music studio on wheels", the documentary explains that the idea was developed after the band felt constrained by the traditional ways of recording, and searched for a way to record anywhere, at any time.
Initially, the plan was to record at Mick Jagger's newly-acquired Stargroves estate, the narrator explains. However, when realising the difficulty of transporting all the recording equipment, it was road manager Ian Stewart who suggested building the equipment into the truck – hence creating a portable studio.
Currently, located in the National Music Centre in Calgary, Canada, the footage shows the interior of the studio, and explains how the band – with the help of engineer Glyn Johns – meticulously crafted the one-of-a-kind design.
Coming in at less than ten minutes long, the mini-documentary explains how the new style of recording impacted the music industry and changed how musicians viewed the entire recording process.
Alongside using the van to record their iconic 1971 album, Sticky Fingers, the mobile studio was also used for other iconic albums throughout the 1970s and 1980s. These include Led Zeppelin's fourth album, Who's Next by The Who, Penguin by Fleetwood Mac and many more.
Find the full video below.
The post The Rolling Stones share short documentary about their mobile recording studio appeared first on Guitar.com | All Things Guitar.
Source: www.guitar-bass.net