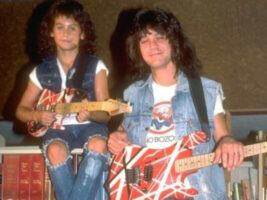 The tiny prop Frankenstrat from the Hot For Teacher video is up for sale
A scaled-down version of Eddie Van Halen's Frankenstrat guitar that 'Young Eddie' once played in Van Halen's iconic Hot For Teacher music video is now up for sale.
READ MORE: Aerosmith celebrate five decades with career-spanning 'Greatest Hits' compilation box
For those unfamiliar with the infamous Hot For Teacher MV, the prop guitar makes its appearance at the 1:25 mark, as Young Eddie — played by child actor Bryan Hitchcock — sits on a desk with the tiny six-string strapped across his shoulder.
"You are looking at quite possibly the oldest piece of legitimate Van Halen memorabilia to ever go up for sale," Ebay seller 1976vett2nv writes on the item's listing page. "This is maybe the most amazing piece of memorabilia I have ever owned with rock solid provenance."
As it stands, this non-playable version of Van Halen's iconic red, black and white guitar currently lists for a price of $219,875, which is hardly a surprise given that the original Frankenstrat recently sold for an eye-watering $3.9 million at an auction.
According to the listing, the prop guitar features a Kramer headstock, black scratchplate, & single volume control. Its body is also signed by Eddie Van Halen along with the message 'Thanx Bryan".
Also included are the outfit Young Eddie wore in the music video, a script, three call sheets from the video shoot, a large colour photograph of Hitchcock and Eddie posing with their guitars at the shoot; 30 small colour photos, some polaroids, and three contemporary music magazines featuring articles and photos on the filming of the video.
The post The tiny prop Frankenstrat from the Hot For Teacher video is up for sale appeared first on Guitar.com | All Things Guitar.
Source: www.guitar-bass.net