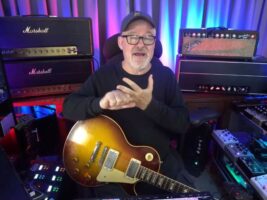 The "very scary" health consequence of recording at home that nearly cost a session legend his career
Recording at home might sound like a dream, but session guitarist Tim Pierce warns of the potential health consequences of not doing it right after a harrowing experience that nearly cost him his career.
READ MORE: Metallica cancel concert after James Hetfield catches COVID-19
In a new video on his YouTube channel, Pierce revealed that he'd undergone a serious health issue that he kept hidden from the public back in 2020 as a result of his "workaholic" habits.
"So here's the story about the thing that literally turned my body into a ticking time bomb that finally exploded in 2020," he begins. "I've spent my entire life in recording studios sitting down while I play. And if you look at sessions, most of the time, most of the players are sitting down while they play. And that's on every instrument."
"[A guitar] looks very ergonomic. But, in fact, it sits low. So you end up kind of leaning over the guitar while you play," Pierce explains. "And it feels cool and it looks cool. But when I started to work at home a lot, not only was I over the guitar with my back bent just a little bit, I was leaning forward to run the computer. And I would run it sometimes for six, seven, eight, nine hours."
He says that things took a turn for the worse during the lockdown when he started working longer hours, "and I was leaning over a lot, doing Pro Tools, playing my guitar. And then, I would go over to the couch and lean over and look at my laptop and answer emails to administration – just getting a lot done."
"These two fingers [ring and pinky finger of his left hand] actually started going numb," says Pierce, who did not give much thought to the problem until things became "really scary".
"I kept powering through. Who cares? Keep playing, whatever, just happens, right? But it got worse and worse and I went to the doctor and it turned out I had a pinched nerve in my upper spine," he recalls, adding that "Every time I reached my arm out to play a C chord on an acoustic guitar, my arm, and my neck would light up in painful pins and needles. I literally could not play anymore."
To make matters worse, any little playing Pierce could get in was also marred by poor accuracy given that two of his fingers were numb. Thankfully for the guitarist, things eventually got better after he attended physical therapy, "and after five months of exercises basically to open up again, it began to subside."
Pierce, who is now totally healed, says that "the only lingering effect is a little bit of weakness in the little finger but it gets stronger every couple of months. I can feel it coming back."
More importantly, Tim says that the entire experience has been a wake up call and that all of his "bad habits are [now] gone".
Check out the full story below.
The post The "very scary" health consequence of recording at home that nearly cost a session legend his career appeared first on Guitar.com | All Things Guitar.
Source: www.guitar-bass.net