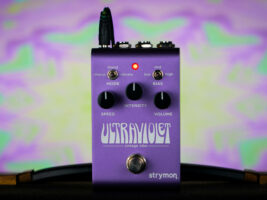 The Week In Guitar: Dean foreclosure, Price-fixing and Strymon psychedelia
Welcome to the Week In Guitar, your rundown of what's been happening over the last seven days of guitar culture. This week: more trouble for Dean, a class action lawsuit over price-fixing for some of the biggest names in the industry, and Strymon gives us its digital take on an analogue classic. Let's dive right in!
Dean Guitars parent company facing foreclosure over $4 million bank debt
Armadillo, the parent company of Dean Guitars, can't catch a break, can it? Not only is it embroiled in a spider's web of lawsuits involving its current and former owners, it's now facing potential foreclosure thanks to an alleged $4 million in unpaid debt. If Valley National Bank is successful, the assets that Armadillo secured the loan against – including the Dean Guitars intellectual property, and the company's factory tools – could be sold off to the highest bidder.
Fender, Yamaha, Korg, Roland and Casio facing class-action lawsuit for price fixing
Fender, Yamaha, Korg, Roland and Casio are facing a class-action lawsuit due to 2019 and 2020 rulings by the Competition and Markets Authority (CMA) that found they had engaged in price fixing. Llunched by legal firm Pogust Goodhead and consumer rights campaigner Elisabetta Sciallis, the suit aims to gain compensation for customers who bought instruments during the period the CMA found price-fixing to be happening. It follows a similar suit launched against Fender back in 2022 in regards to a 2020 ruling from the CMA.
Strymon brings the Uni-Vibe into the modern day with the new UltraViolet Vintage Vibe
A new Strymon pedal is always big news, especially when it's a little different to brand's normal focus on reverb and delay. Here the design team have all either stumbled across some mystery fungi in the forest, or, more likely, made a careful and considered recreation of the Uni-Vibe, with, of course, a modern, digital twist. On the one hand, it's inspired by a half-century old circuit made most famous by Jimi Hendrix. On the other, it's got USB-C and full MIDI support. Of course!
Quick Riffs
Details about Fender's entry into the digital floor modelling space have leaked.
Universal Audio shrinks the Ox down to a stompbox-sized speaker emulator.
Heritage guitars reveals a new singlecut, the H-150 P90: it comes loaded with two newly-designed 225 Classic P90 pickups, and finished in some rather lovely custom colours.
Quote Of The Week
"Some of what you practise should sound shit, because then you know you're working on something that needs to be worked on"
There's not really much that needs to be added to this sage wisdom from Guthrie Govan. If even he occasionally sounds rubbish while practising, then don't feel like you're getting nowhere as you flub that sweep-picked part for the hundredth time.
The Encore
Well, that's one way to launch your Global Music Diplomacy Initiative: have the US secretary of state play Muddy Waters' Hoochie Coochie Man. We're waiting with bated breath on this side of the point. Will Suella Braverman respond by opening a roundabout in Wootton Bassett with a rendition of Through The Fire And The Flames? Only time will tell.
The post The Week In Guitar: Dean foreclosure, Price-fixing and Strymon psychedelia appeared first on Guitar.com | All Things Guitar.
Source: www.guitar-bass.net