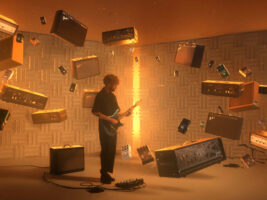 The Week In Guitar: Fender's flagship modeller, Archetype: Mateus Asato and an unexpected lawsuit
Welcome to the Week In Guitar, your rundown of everything that's been happening in guitar culture over the last seven days. Let's dive in!
The Tone Master Pro arrives
Fender has officially released its first entry into the world of modern floor modellers with the Tone Master Pro, after an early dealer listing revealed its existence. The unit allows you to build huge patches using an extensive library of amps and effects, which have been – according to Fender – "perfectly replicated" using its proprietary Tone Master modelling process. There's also a comprehensive I/O, a 7" touch screen and ten multi-function footswitches.
Archetype: Mateus Asato
The latest artist to receive the Archetype treatment from Neural DSP is firebrand guitarist Mateus Asato. His virtual suite includes three amplifier models: a vintage, British-voiced clean amp, a Fender-inspired modern clean amp and a higher-gain lead amp. There's also, as you might expect, a bunch of pre- and post-effects, a powerful master EQ and a transposer, features which have become standard in Neural's plugins over the years.
An airline sues an indie band
You know how it is, right – you go on to Spotify to check out the latest single from Leicester indie-rock band Easy Life, and find yourself hurtling through the sky at hundreds of miles an hour. An 'easy' mistake to make. Yes, easyJet, the budget airline, have decided to make Easy Life's life a difficult life, suing them for using the word "easy" in their band name. Now, that's just plane wrong, you might say, but there is a precedent: in 2008, a restaurant in Northampton changed its name from easyCurry thanks to a suit from the brand.
Quick Riffs
Vernon Reid leads the charge to get people to recognise Ernie Isley's impact, calling for people to boost his following
A 24/7, 365 dynamic SiriusXM channel opens that's been hand-curated by John Mayer himself. Whether Mayer being 'the music director of your life" is your idea of heaven or hell depends, though.
Dave Mustaine continues his beef with security guards by kicking some out of a Megadeth show, for allegedly hitting a fan.
Quote Of The Week
"I'm constantly disappointed by extraordinary guitar players that have got no concept of how to change their tone"
Steven Wilson has told That Pedal Show that he wishes more players would think more about creating a unique guitar sound, as he finds the one that lets them "play a million notes a minute" boring.
The Encore
"Wow, thanks Matt Bellamy for giving me a guitar! Now, did you happen to have any wood glue lying about, because, I'm not sure if you noticed, but you've smashed this guitar completely into pieces before giving it to me."
The post The Week In Guitar: Fender's flagship modeller, Archetype: Mateus Asato and an unexpected lawsuit appeared first on Guitar.com | All Things Guitar.
Source: www.guitar-bass.net