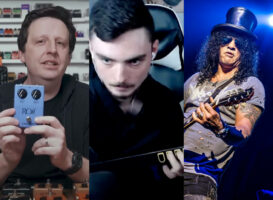 The Week In Guitar: GN'R, neckless guitars, brands back from the dead and powerchord slander
Welcome to The Week In Guitar – aka the lazy person's way of keeping up with everything that's going on in guitar culture. Don't have time to read every news story, interview, forum thread and Instagram post? 
READ MORE: Introducing the revamped Guitar.com
We got you covered – it's literally our job! 
Let Guitar.com do the hard work, and come back every Friday to get your bite-sized look back at all the biggest events in the guitar world this week in The Week In Guitar. Here's what has been setting the guitarosphere alight this week…
 
Perhaps… not? 
After comically being leaked on digital jukeboxes last weekend, we finally have what we've all been anticipating with baited breath since Slash and Duff McKagan rejoined Guns N' Roses back in 2016 – a new, proper, gang's all here GN'R song. At least, that's sort of what we have? 
In truth, Perhaps, which was finally unleashed on the world on Friday after a whopping seven years after the core of the original band got back together, is not exactly 'new'. The song was an offcut from the acres of discarded material created for 2000s musical punchline, Chinese Democracy, but has since been reworked so that the band can claim it was "written and recorded by Axl Rose, Slash, and Duff McKagan this year".
So, what does the first Axl/Duff/Slash joint since The Spaghetti Incident sound like? Well it's not exactly Welcome To The Jungle, put it that way – a piano-driven quite pedestrian number with a by-the-numbers riff from Slash that's not even as memorable as some of his solo work. There's a nice bend-heavy solo about halfway through, and at least Axl sounds better than he did at Glastonbury, but it's hard not to feel like we waited 30 damn years… for this?!
 
What's old is new again
We guitarists bloody love old shit don't we? Whether it's an old guitar, amp, or pedal, or something new that's pretending to be old, we seemingly cannot get enough of it. All of which makes the recent spate of old guitar brands being brought back from the dead wholly understandable – Maestro, Harmony, Supro, Teisco, DOD… even really obscure stuff like Shergold has risen like a phoenix in recent years. 
This week, it's the turn of fondly-remembered 70s and 80s stalwart Ross to make a comeback, but this one feels a bit different. For starters, there's no megacorp or multi-channel retailer responsible for Ross's revival – it's JHS Pedals doing the reviving, in what must surely be a pivotal moment in the gradual blurring between the worlds of boutique and the big guns. 
What's more, you don't feel like Josh Scott is doing this just because people like old things and there's a gap in the market. Josh is probably the pedal world's foremost archivist and historian, and you get a sense that he genuinely loves the Ross brand, and wants to use this revival as a way to tell the brand's story and give Bud Ross the place he deserves in guitar history – as the above documentary shows, without him the boutique world might be a lot different…
 
Quick Riffs
U2 producer Steve Lilliwhite has slandered the almighty powerchord – claiming that the classic root-fifth-fifth is somehow ""laziness" and decidedly "not art". Spoken like someone who has never blasted through Smells Like Teen Spirit to a half-empty pub on a Friday night. 
Marty Friedman says that Polyphia's popularity proves that people are "intellectual enough to receive a lot of musical data" – we think that's Marty-speak for 'an awful lot of notes played very fast'. 
YouTuber Bernth Brodträger has created a 'neckless guitar' with just a body and headstock – and he claims that not only can you play it, he's even used it to record a song. Funny light-hearted guitar-stunt or cheeky attempt to boost his Spotify play count? You decide
Former Megadeth guitarist Jeff Young says that Kings Of Thrash, the band he formed with fellow Megadeth alum Dave Elefson, has got Dave Mustaine "feeling the heat" because the band are covering Megadeth songs "better than he has in years". Still, at least Megadave isn't the sort of person who'd get into a public spat with his ex-bandmates, so we'll never hear anything more about this, right? 
Quote Of The Week
"I don't want someone coming away from my show thinking, 'He doesn't sound any good,'"
Buddy Guy sharing some wisdom for us all with Guitar World, explaining that he returned from touring while he was still happy with his playing, instead of carrying on with gradually worsening results, as some of his idols did. 
The Encore
Forget Through The Fire & The Flames, streamer Carny Jared has somehow managed to get 100% on Guitar Hero III's Sweet Home Alabama… at 300% speed. It really does have to be seen to be believed, and it took him a whopping 530 attempts to nail the song to 100% accuracy. Imagine if he'd spent all that time practising a real guitar instead? 
See you next Friday for all next week's guitar highlights!
The post The Week In Guitar: GN'R, neckless guitars, brands back from the dead and powerchord slander appeared first on Guitar.com | All Things Guitar.
Source: www.guitar-bass.net