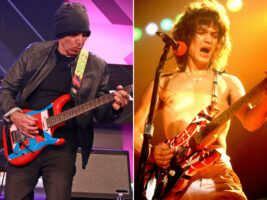 This is Eddie Van Halen's most difficult guitar riff ever, according to Joe Satriani and Sammy Hagar
Sammy Hagar and Joe Satriani have named the most demanding Eddie Van Halen guitar riff ever, and after trying it ourselves, we concur.
READ MORE: Black Friday Deals 2023: top savings on guitars, effects and amps
On a recent episode of The Howard Stern Show, the pair discuss their upcoming 'The Best Of All Worlds' tour with bassist Michael Anthony and drummer Jason Bonham, which will see the band "go deep" into the Van Halen catalogue.
Asked which is the most difficult riff Eddie ever came up with, Hagar replies that while he personally loves the intro to 5150 and Summer Nights, the title belongs to something from Van Halen's "early days".
"This is impossible to play," Satriani jokes, as he begins strumming on his electric guitar. The riff, as we'll soon discover, is no other than the intro to Mean Street, the opener on Van Halen's 1981 album, Fair Warning.
"That's just a lunatic," Hagar continues, adding that there's good reason to have Satch on board instead of just some guitar player who can imitate Eddie's sound.
"The thing about what Eddie did – I mean the reason Joe is in this band for this tour is because like I said, if you're gonna go deep into his stuff in the Van Halen catalogue, you need a guy like Joe Satriani that's not just imitating Eddie."
"So many little kids in grocery stores nowadays just pick up a guitar off the shelf and go play all this stuff, but they don't necessarily know what they're playing," he explains. "They're just imitating Eddie because he's so distinct. Joe knows what he's playing and Joe can do something like that and know what it means."
"I'm going 'I think that's just Eddie just fucking around beating the shit out of his guitars,'" Hagar says, compared to Satch who actually "knows this stuff".
"That's the difference between playing this stuff with Joe and just having some guitar player in the band that can imitate Eddie," the rocker concludes.
The post This is Eddie Van Halen's most difficult guitar riff ever, according to Joe Satriani and Sammy Hagar appeared first on Guitar.com | All Things Guitar.
Source: www.guitar-bass.net