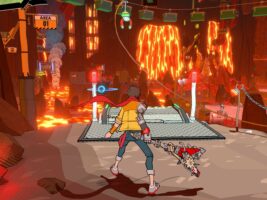 This new video game lets you fight off enemies with Flying Vs, SGs, Explorers and more
New title, Hi-Fi Rush, has given a whole new meaning to guitar-based video games – allowing you to defeat your enemies using a range of Epiphone guitars.
READ MORE: Guitars from Slash, Fleetwood Mac, Joe Perry and many more go to charity auction – here's what they sold for
Introduced last month by developer Tango Gameworks, the new game follows the story of Chai, a 25-year-old aspiring musician who has to defeat an evil corporation, using only a collection of Epiphones.
Replacing the cliché choice of weapons usually provided in combat games, Hi-Fi Rush instead provides a weird crossover between Mortal Kombat and Guitar Hero –letting you choose a range of iconic guitars as your tools for destruction.
A pretty impressive selection of Epiphone models are provided, including a Flying V, an Explorer, an ES-335 and, of course, an SG.
As for the plot… here's where things begin to get a little strange.
View this post on Instagram
A post shared by Epiphone (@epiphone)
Essentially, the aforementioned protagonist has a disabled right arm – a noticeable hindrance for any aspiring guitarist, right?
Well, when undergoing an experimental form of surgery to attach a cybernetic replacement, one of his music players falls into his chest. This somehow fuses with Chai and provides him with the ability to take on the world in a new, music-inspired way. (Yes, really.)
From there, Chai, and a few of his allies, attempt to destroy the evil robotics enhancement corporation that reigns over their fictional world using guitars. Pretty heavy stuff.
You can take down the villainous NPCs to the game's own heavy soundtrack, which includes songs from The Prodigy, Nine Inch Nails and The Black Keys.
Tempted to put your guitar-smashing skills to the test, and take down some evil robots along the way? Hi-Fi Rush is available to download now on Steam for $30. The game is compatible with Game Pass, Xbox Series X|S, XB1, and PC.
Find a trailer also located on the page.
The post This new video game lets you fight off enemies with Flying Vs, SGs, Explorers and more appeared first on Guitar.com | All Things Guitar.
Source: www.guitar-bass.net