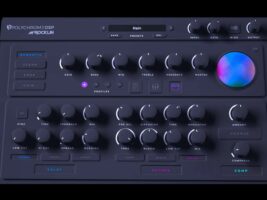 Thomas McRocklin launches his own plugin company, PolyChrome DSP
Thomas McRocklin has unveiled his own plugin company, PolyChrome DSP, which offers nearly 400 presets, four uniquely voiced amps, a host of effects and more.
READ MORE: Seymour Duncan releases standalone Cory Wong signature Clean Machine pickups
The guitarist unveiled his new company on his YouTube channel yesterday (7 February), and claims that the software has replaced over $3000 worth of his own gear.
According to McRocklin, the idea for the company was inspired by a desire to tidy up his signature suite and navigate his favourite equipment with better ease.
"[It's a] collection of all my favourite things. Things that are super important to me but without all of the baggage," he says during the video. "Better sounding amps. Better sounding effects. Better sounding drives… Basically better in every single category."
Impressively feature-heavy, the plugin comes with close to 400 presets to choose from – something which will continuously expand over time, but without any additional cost.
A choice of four uniquely-voiced amps also come embedded. These include clean, acoustic, edge and gain voicings, ensuring that the plugin is compatible with any style of playing.
Fifteen fully-produced "mix ready" speaker chains, three "next-gen" reverb algorithms and four drive pedals are among other features incorporated, as well as an extensive number of effects.
Two types of EQ come as standard – four-band parametric and eight-band graphic – to better find the tone that fits best with your track. Similarly, a built-in "Heatpressor" is embedded to help your playing cut through mixes.
A full list of features are listed in the guitarist's video, as well as audio demonstrations and a guide on how the plugin works.
The PolyChrome DSP is available to download now for the introductory price of $99 (RRP $149). A free demo edition is also available and each purchase comes with its own standalone version. Find out more on the company's website.
The post Thomas McRocklin launches his own plugin company, PolyChrome DSP appeared first on Guitar.com | All Things Guitar.
Source: www.guitar-bass.net