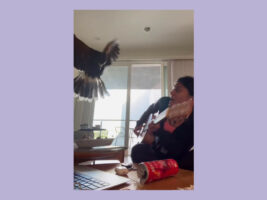 TikTok guitar cover video gatecrashed by a hawk
An unsuspecting TikTokker was filming a video of her playing a guitar cover when she was interrupted by a hawk flying into the room, causing unmitigated chaos
Nikki Kundanmal's video of what she described as "the most chaotic day of my life" picked up nearly 725,000 likes and 13,600 comments on the platform.
She was attempting to perform Kiss Me by Sixpence None The Richer on an acoustic guitar, and the hawk could be seen perching on Kundanmal's balcony as she was playing. When she paused and restarted her song, the hawk had flown into the house and had landed on the table. With her back to the hawk, Kundanmal remained completely unaware that it had flown into her apartment.
Kundanmal's dog spotted the hawk before she had and started barking, but she remained unaware as to why. As she told off the dog, the hawk got closer, before landing on the bowl next to her.
Kundanmal screamed and leapt away from the bird, running off camera, and knocked a can of juice over onto her laptop in the process. According to one of the captions in the video, in her alarm, she yelled for a roommate who had moved out months before.
In the end, the dog frightened the hawk away, jumping onto the table and yapping at it. A few seconds later, the hawk flew out of the apartment and returned to the balcony.
Kundanmal captioned her video: "so do i call ellen or does ellen call me".
You can watch the chaos unfold below:
@nikkikundanmal
so do I call ellen or does ellen call me
♬ original sound – Nikki Kundanmal
The post TikTok guitar cover video gatecrashed by a hawk appeared first on Guitar.com | All Things Guitar.
Source: www.guitar-bass.net