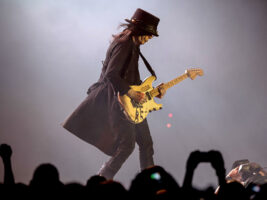 "Tone is the biggest part for me": Mick Mars says he's not interested in being a shredder
Mick Mars' latest single Loyal To The Lie might prove that he's still able to shred, but the ex-Mötley Crüe guitarist says he has no interest in being a "shredder" and that he'll much rather fans remember his solos instead.
READ MORE: Corey Taylor: "With Stone Sour, 9 times out of 10, I was better than the guitar player we had in the band"
Mars, whose solo debut album The Other Side of Mars arrives next February, told Braveworlds that shredding has never been a big part of his playing style.
"Tone is the biggest part for me. I could play slower or whatever the heck, but it was always tone. Did I want to be a shredder? Not really. I mean, I'd like to have people humming my solos when they leave a show. And remembering them."
As for which Mötley Crüe guitar riffs he was most proud of, Mars named a couple that — surprisingly — "weren't quite hits".
"But Sticky Sweet was one that was kind of cool. Dr. Feelgood, Louder Than Hell, Red Hot – those kinds of songs."
The man adds that his guitar influences come from a range of genres, including "blues people like Michael Bloomfield" and rock greats like Jeff Beck, Jimmy Page, Ritchie Blackmore.
"I love all sorts of things like, I like funk, I like R&B, I like soul music like Wicked Pickett [Wilson Pickett's 1966 album] — all those guys," says Mars, adding that Alvin Lee, in particular, is a real guitar hero of his: "Alvin Lee wasn't a shredder but he was — 'cause he was playing blues licks like the shredders do today, you know."
Finally, as the interview circled back to his relationship with the Crüe, Mars was asked "Does it break your heart the way things ended?"
To which he replied: "Sometimes… But sometimes you've got to grow more. I can't take it any further than that because of all the crap. What is it that the Byrds say? 'A time to sow, a time to reap.' [Mars references the lyrics of Turn Turn Turn]. I learned how to play it when I was fourteen…on a 12-string, too!"
The post "Tone is the biggest part for me": Mick Mars says he's not interested in being a shredder appeared first on Guitar.com | All Things Guitar.
Source: www.guitar-bass.net