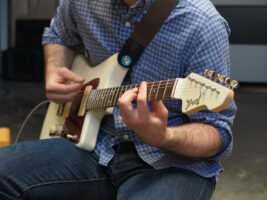 Trent Guitars is hand-building offset guitars with a climate conscious ethos
How did you get into guitar?
"Growing up in the early 90s, guitar was of course a massive part of the culture. With Nirvana and Rage Against The Machine being all around school it was inevitable that some of us would pick up the guitar."
READ MORE: Ron Westwood of Cutthroat Audio on vintage amps, quality cables and why "more dollars isn't necessarily more tone"
When did you start building or tinkering with guitars?
"My background is in cabinetmaking; for the past decade I've been running my business crafting all kinds of fine furniture. It's a trade where you get used to having to focus on the smallest details, it really is a process of hundreds of little problems that need solving. I thrive with that attention to detail, and when my friend approached me and ask if I'd considered making guitars it was a no brainer.
"I then begun the process of learning all that goes into making an electric guitar. What's great is that many of the steps involved are very familiar coming from a furniture-making background, so I felt very blessed to have a head start. I spent six months or so making neck after neck to hone my skills in what is, realistically, the most important and challenging part of a guitar. Now, a couple of years down the line, I feel very confident in what I've developed and thankfully the people who play them seem to agree too!"
How does your background as a furniture maker help you as a luthier?
"I'd say making guitars shares a large portion of processes with furniture making. The time earned skills in wood preparation, joinery, precise fitment of parts, fine sanding, spray finishing all contribute to making guitars – and of course already owning the majority of the machinery definitely helps! They're both detail-orientated trades, which meant I was able to focus my time in developing more specific guitar-making skills, given that I didn't have to learn the basics of woodworking."
Why did you choose to pivot away from furniture building?
"Having made custom furniture for the past 10 years, it's sent me all over the country and to be perfectly honest with you I'm most at home in the workshop. I truly love to spend time at the workbench rather than on the road or at customer's houses. Making heirloom pieces of furniture is always at the forefront of my mind and I feel like this can be even more meaningful when making guitars. The idea that something I can craft for someone will be with them for a lifetime really is the goal for me. Maybe they can pass it on one day!"
When did you realise you had a viable business?
"When I first held the rough-cut body and neck of the Model 1 after several months of drafting, I felt like I was onto something. Once I'd gotten the final prototype together and my website got picked up on the fretboard.co.uk forums it confirmed that I may be able to make this work commercially. The support from the forum has been incredible; I feel very lucky to have found them early on."
Did you have any external investment starting out?
"At this time, I haven't taken any investment or used any grants, but this is mostly because I already own and operate a furniture-making business which means I have most of the more expensive tooling required to make guitars."
When did you feel like you'd nailed your branding?
"I had a couple of close friends help me with the branding as it's not exactly my forte! Once I saw what they'd done with the website and the images I'd given them I knew we had the right tone."
How did you come up with your best-selling product?
"The 'Model 1' is my debut model. I wanted to take my favourite elements from other guitars and see if I could do something with a few original features. I wanted something utilitarian but still great looking. I look to the classics in Fender and then to the contemporary in Novo and Macmull.
"What was key to me was to have something that departs from the exotic woods and highly figured tops. I wanted to take my experience in spray finishing furniture to guitars. I use a unique – to the guitar world – and entirely water-based paint system. It's thin like nitro but lacks all the horrible solvents and reactivity that come with it.
"The overall design of the Model 1 was a collaboration between a dear friend and me. What we've ended up with is a true players offset. The guitarists who've played it say how it feels reassuringly familiar but has its own voice. Its intentionally lightweight due to the material choices, and the neck features carefully rounded fret ends and eased fretboard edges for the best playability possible."
Is it a conscious decision to make your guitars using environmentally friendly materials?
"It certainly is a conscious decision; the concept of sustainability is key for me. Having spent years spraying water-based paint I'm keenly aware of its benefits over traditional solvent-based paints. The feedback I've had so far has been overwhelmingly positive, people really seem to be onboard with the concept of having something with a little more of the environment in mind. I have plans for a Model 1 made entirely with domestically sourced timber, which is a bit of a break from the norm, but certainly possible."
What made you settle on a hardtail bridge with P-90 pickups for the Model 1?
"For the Model 1 the idea was to make something that was purely utility in nature, with a focus on build quality and playability. A true tool for the professional musician but also accessible for the home gamer. Hardtails are about as simple and solid as it gets. P-90's just fit the vibe of what I wanted to go for with the guitar, the warmth and thicker sound than a Strat-style pickup but not as huge as a humbucker. Although I specifically made the body 44mm to accommodate a Strat tremolo if people did want one installed as a custom order, I can of course drop in mini-humbuckers or full-size humbuckers with a modified route again as a custom request."
1 of 10
What's your proudest moment as a maker?
"It has to be the first time the final prototype was plugged into a cranked amp, no question."
What's next for Trent Guitars?
"Now it's all about brand awareness, but I'd be lying if I said I wasn't already thinking about Model 2!"
Find out more about Trent Guitars at www.trentguitars.com.
The post Trent Guitars is hand-building offset guitars with a climate conscious ethos appeared first on Guitar.com | All Things Guitar.
Source: www.guitar-bass.net