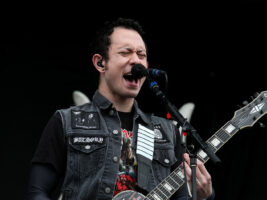 Trivium's Matt Heafy has tested positive for COVID-19: "Thankfully due to being vaccinated it merely feels like a tour cold"
Trivium frontman Matt Heafy has revealed that he's tested positive for COVID-19, but said that thanks to his vaccination, his symptoms feel as light as a "tour cold".
Heafy shared his positive test result on Instagram yesterday (5 July), explaining he believes his family got infected after his spouse, Ashley, caught the virus from someone who wasn't vaccinated.
"Welp. Went from a non-vaccinated person to Ashley (vaccinated) to the kids (unvaccinated) to me (vaccinated)," Heafy wrote.
He continued: "Thankfully due to being vaccinated it merely feels like a tour cold; my dad however got sick without a vaccine and is now 12 weeks into a very terrible recovery with lung/heart/liver issues."
"I [ought to] be good in a day or two. See y'all on stream tomorrow regardless!"
View this post on Instagram
A post shared by Matthew kiichichaos Heafy (@matthewkheafy)
Heafy followed up his post with a video highlight from a session of Call Of Duty: Warzone, taken from his Twitch stream a day after revealing his positive test result.
"Kiichi Chaos [Heafy's gamer tag] still reigns even when he's actually sick af," he wrote. See the post below:
View this post on Instagram
A post shared by Matthew kiichichaos Heafy (@matthewkheafy)
With in-person performances off the cards for most of 2020, Heafy has kept busy by livestreaming regularly on his Twitch channel. His earnings from the platform, according to a recent report by former Spotify Chief Economist Will Page, were comparable to that which Trivium makes through music streaming services on a monthly basis.
The post Trivium's Matt Heafy has tested positive for COVID-19: "Thankfully due to being vaccinated it merely feels like a tour cold" appeared first on Guitar.com | All Things Guitar.
Source: www.guitar-bass.net