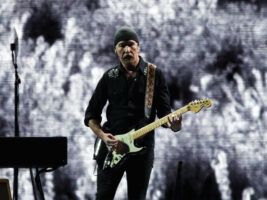 U2's The Edge hopes they can be "the vanguard" of the guitar resurgence 
U2 guitarist The Edge has had another say on the resurgence of guitar-led music infiltrating the mainstream.
READ MORE: Bono admits every U2 member has "thought about walking away" from the band
Earlier this month (March), Edge had shared that he felt the "timing is right" for the band to release a guitar-led record – an idea he had been urging Bono to take part in for some time.
In a new interview with MOJO, The Edge has given more of his opinion on why now is the time to fall back in love with the guitar: "The lockdown was a very creative period for me, just in composing music. I don't want to jinx ourselves… but there's a lot of great material waiting. I think the guitar is coming back. I really feel it. And I would like to be part of that."
He added, "I'd like to be the vanguard of this resurgence of guitars! Don't get me wrong – talking to people I know who work at Fender, they're selling more guitars now than they've ever sold. But in terms of popular culture, there's been a drift away from the instrument, it would be fair to say.
"And I think that pendulum is going to start swinging the other direction. Because it's such an incredibly expressive instrument. The few bands that are using it well, it's still fresh," he said.
Starting on 16 April this year, a Spring 2023 run of eleven dates to celebrate Bono's Stories of Surrender memoir will be taking place at New York's Beacon Theatre. Get tickets at U2.com.
The post U2's The Edge hopes they can be "the vanguard" of the guitar resurgence  appeared first on Guitar.com | All Things Guitar.
Source: www.guitar-bass.net