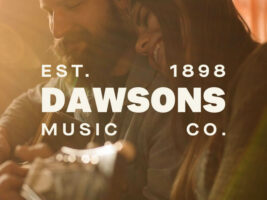 UK music retailer Dawsons acquired by Mono & Harmony owner Vista Musical Instruments
Vista Musical Instruments – a global corporation which owns and operates brands including MONO, Teisco, Harmony and Heritage Guitars – has announced its acquisition of longstanding UK musical instrument retailer, Dawsons.
READ MORE: MONO's new Power Supply is a comprehensive solution for any pedalboard enthusiast
The company – which is owned by NME Networks parent company the Caldecott Music Group – says it's committed to "preserving the legacy of Dawsons while injecting fresh energy and innovation into the brand".
VMI, which also owns Asian retailer Swee Lee, adds that the brand's relaunch will "pay homage" to Dawsons' 125-year heritage, while focusing on implementing a "modern and captivating aesthetic".
Says Meng Ru Kuok, CEO of Vista Musical Instruments: "As one of the oldest music retailers in the UK, Dawsons holds a special place in the hearts of musicians and fans alike around the country.
"Countless musicians have found their first instruments or made their initial foray into the world of music through Dawsons. This legacy of nurturing talent and supporting aspiring musicians remains an integral part of Dawsons' identity and something we care about deeply at Vista Musical Instruments."
He continues: "With such a rich heritage, and our ability as a group to rebuild this legacy name and supply an extensive, high-quality product range, the business aligns perfectly with our family of brands and vision for Vista Musical Instruments and we are proud to leverage our extensive retail experience as stewards of the brand's future."
Founded in Warrington, Cheshire in 1898, Dawsons is one of the UK's oldest music retailers.
In 2020, due to declining sales and a "highly challenging retail environment" thanks to the Covid pandemic, Dawsons entered administration.
Shortly after, the brand announced it had found new buyers, but reentered administration in 2021, leading to the closure of all but one of its stores, and the dismissal of 48 of its employees.
Vista Musical Instruments says its acquisition of the company "marks a significant milestone" as it brings its "expertise and resources in music retail to the United Kingdom.
The post UK music retailer Dawsons acquired by Mono & Harmony owner Vista Musical Instruments appeared first on Guitar.com | All Things Guitar.
Source: www.guitar-bass.net