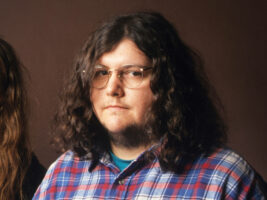 Van Conner, Screaming Trees bassist and co-founder, dies aged 55
Van Conner, co-founder and bassist of pioneering grunge rock group Screaming Trees, has died at the age of 55.
Conner's passing was confirmed by his brother and bandmate Gary Lee Conner in a Facebook post: "Van Conner bassist and songwriter of Screaming Trees died last night [17 January] of an extended illness at 55," Lee wrote.
"It was pneumonia that got him in the end. He was one of the closest friends I ever had and I loved him immensely. I will miss him forever and ever and ever."
Let me put this letter on Van's grave. Van Conner bassist and song writer of Screaming Trees died last…
Posted by Gary Lee Conner on Wednesday, January 18, 2023
Born 1967, in Apple Valley, California, Conner formed Screaming trees in 1984 alongside his guitarist brother, drummer Mark Pickerel and late singer Mark Lanegan. The group belonged to an early wave of indie bands in the Pacific Northwest scene whose sound contributed to the burgeoning grunge movement.
In 1986, Screaming Trees released their debut album Clairvoyance, a record that saw little commercial success. After a series of albums with indie label SST Records — during which the Trees had built up a steady local following — the band's breakthrough moment finally came with the 1992 song Nearly Lost You, which featured on the Cameron Crowe movie Singles.
Reflecting on the band's newfound fame in a 2012 Spin interview, Conner said, "We were playing a show with Mojo Nixon and Firehose in Florida, and our manager, Kim, was like, 'Wow, your album is actually selling this much a week' — it was a lot — 'and your song is being played on the radio this much.'"
"You could turn on MTV and see our video if you just watched for an hour. Either Mark or Lee said, 'Wow, maybe we'll be a one-hit wonder.' And then, 15 years later, VH1 did a show called One-Hit Wonders, and we were on it."
The Trees announced their official breakup in 2000, before resurfacing in 2011 to release Last Words: The Final Recordings, an album filled with songs the band had recorded in the late '90s.
Outside of Screaming Trees, Conner played in the side projects Solomon Grundy and Gardener; he also joined the live lineup of Dinosaur Jr. between 1990 and 1991. His latest solo record, Coming Back Again, was released in 2019.
The post Van Conner, Screaming Trees bassist and co-founder, dies aged 55 appeared first on Guitar.com | All Things Guitar.
Source: www.guitar-bass.net