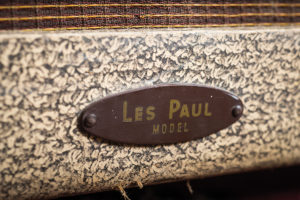 Vintage Bench Test: 1956 Gibson GA-40 – Signature Sounds
Though not as famous as the guitar that bore his name, in the 1950s Les Paul also lent his name to a line of Gibson amps that made a complete signature 'guitar outfit'. Huw Price gets two-toned with the GA-40…
The Gibson badge is long gone, but the outline has been drawn in black marker
In total, Gibson produced no fewer than five Les Paul GA-40 amplifier variants. The looks and electronics varied from model to model, yet none produced anything like the 40 watts the name implies. All besides the last version were equipped with two 6V6 power valves, cathode-biased to drive about 15 watts through an Alnico Jensen P12. This GA-40 featured is the second version, which Gibson produced in 1956 and 1957. The redwood cabinet was increased in size and while Gibson retained the two-tone look, the 'buffalo grained' Tolex was combined with a smooth, patterned Tolex that looks like a blown-up photo of someone's rug. The original P12Q speaker in our example is intact and its 'late 1955' date stamp suggests this amp is most likely a 1956 example.
The 'Les Paul Model' badge survives at the bottom of the cabinet
A 'Les Paul Model' badge is attached under the grille cloth and above it, there would have been a metal logo. Only the numbers survive, and the missing Gibson logo is filled in with a black marker pen. The leather handle is a decent repro and the original brackets remain.
We're flummoxed by the added casters, because the amp is so light, but the bottom-corner protectors look fine, in an EH-185 sort of way. Les Paul's involvement with the amp's design is undocumented, but we know that Seth Lover designed the tremolo circuit, which utilises an octal 6SQ7 triode. During the mid 1950s, manufacturers were moving from octal to nine-pin miniature valves, and it's unusual to see a mixture of both.
The control panel and has suffered corrosion, and a screw has been added at each end of the control cutout to hold the amp more securely
More unusual still are the 5879 pentodes at the front of both channels, coupled with a 12AX7 phase inverter that's configured like the earliest Fender Deluxes. Channel 1's signal path is very straight-through, but Channel 2's has a filter network to provide a distinctive voicing and if you compare its circuit with the EF86 channel of a Vox AC10 or AC15, the extreme similarity between these amps may surprise you. Cosmetically, this amp is in fair condition and although the 'buffalo' texture has almost worn smooth, the Tolex is in decent shape.
The control panel and legending have suffered corrosion, and a screw has been added at each end of the control cutout to hold the amp more securely with added Tolex patches. The wedge-shaped solid mahogany tremolo footswitch slots into a neat metal bracket mounted inside the cabinet. We'd like to imagine Gibson made them from neck offcuts, and the angle does look about right…
Most of the original resistors tested within spec so they were left unchanged when the amp was restored
In Use
Kicking off with our Goldtop conversion loaded with a set of 1953 P-90s, the differences between the two channels are immediately apparent. Channel 1 is fatter, deeper and more gainy. In contrast, Channel 2 has rolled off bass, a hint of cocked wah in the mids and a sense of extra brightness and jangle without actually sounding clearer. Putting it very simply, it's like having a Vox front end driving an early 50s Tweed phase inverter and power stage through a classic American speaker. It's two-toned in both looks and sound, then. Since the tone control comes after the phase inverter, it has negligible effect on gain and a fairly subtle effect on treble content.
The GA-40 isn't that bright to start with, but roll the tone fully back and it's not too dark, either. Bear in mind the GA-40 was designed for jazz players, and the warm and woody 'dark sparkle' associated with these amps allows any guitar's natural tone to come through without any harshness. There's a sudden jump in volume on both channels once the controls reach about a third of the way up and you can balance the channels on their sweet spots, where playing dynamics determine the drive. The GA-40 then eases its way from jump-blues honk into copious quantities of overdrive.
A metal bracket is screwed to the side of the pine cabinet' for stashing the tremolo switch
It's a harmonically rich, smooth and frankly gorgeous distortion that's also devoid of rock 'n' roll crunch. While Fender's brighter and more raucous Tweed offerings were laying the sonic foundations of blues rock, psychedelia and metal, the GA-40 was a bit behind the times… but curiously ahead of its time, too. Channel 1 is reminiscent of the modern boutique tone we tend to associate with Swart amps, albeit with less treble.
Factor in a mesmerisingly versatile tremolo (that is probably my all-time favourite) with the best-sounding vintage Jensen we have ever encountered, and the GA-40 is almost addictive. The lows have genuine gravitas and hold together superbly, and the compressed, papery rasp of other P12 Jensens is totally absent.
The black metal valve is an RCA 6SQ7 octal triode used for the tremolo
Despite the meaty grind, choke-bolstered punch and astonishing sustain, you may struggle to cut through a mix – particularly if you combine the GA-40 with P-90s and PAFs. However, it is exactly the kind of amp that excels in recording scenarios and the sweet treble makes it a fatigue-free joy to play in a home setting as well. Perhaps a few minor and inexpensive tweaks could open out the top end and liven up the dynamics without altering the fundamental character.
We would look at the input jack wiring – specifically the grid/mixer resistors of channel 1 and the input impedance of both channels. That's precisely what Gibson did for version three, plus there's the potential to wire bright caps across the volume controls. Although the more time we spend with this amp, the more inclined we feel to leave it stock.
The alnico speaker is a lesser seen Jensen P12Q, which was more often used for organs than guitar amps
The term 'Tweed killer' is indiscriminately applied to 1950s American amps that are both cheaper and more distorted. While we're always ready to champion the underdog, there are usually good reasons why Fender's finest remain the most revered. Those reasons are invariably sonic, but with the GA-40, it's less clear cut. The lack of treble extension is one thing, but the main issue is the GA-40's less-than-stellar reputation for reliability and the difficulty in fixing them. Gibson's double-sided board makes half of the components inaccessible and heat from the power valves slowly roasts filter caps to the point of failure.
A new power supply filter capacitor has been installed inside this original cardboard tube
It takes a brave person to tackle a GA40 restoration, but this amp's current owner recently completed the task with style. In the process, all the tremolo capacitors on the rear of the circuit board were replaced as a precaution and everything is running perfectly. Since it was shipped over from South Africa a few years ago, the amp has been in storage. The failed power transformer was rewound by the Majestic Transformer Company and converted to UK voltage in the process, so no step-down transformer is required. It may not be the prettiest example, but sonically and electronically, it's a fine specimen of a very special amp.
The switch is a wedge of mahogany sprayed tobacco brown, so you could think of it as a bit of a vintage Gibson guitar
KEY FEATURES1956 Gibson GA-40
• DESCRIPTION 15W cathode biased combo amplifier. Made in the USA
• PRICE £1000
• BUILD 2 channel, hand-wired valve combo with tremolo
• POWER RATING 4W
• VALVES 2x 5879, 2x 6V6, 1x 5Y3
• CONTROL PANEL 4x input jacks, volume, volume, frequency, depth, treble/bass, power switch
• SPEAKER 1x Jensen P12Q 8-ohm
• DIMENSIONS 560 x 500 x 265mm
• WEIGHT 32.84/14.9kg
• CONTACT For serious enquiries contact The Guitar MagazineThe post Vintage Bench Test: 1956 Gibson GA-40 – Signature Sounds appeared first on The Guitar Magazine.
Source: www.guitar-bass.net