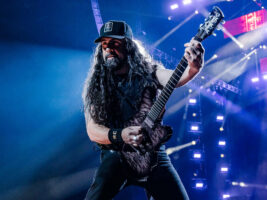 Volbeat announce departure of guitarist Rob Caggiano
Danish rock heavyweights Volbeat have announced the departure of longtime guitarist Rob Caggiano.
The split appears amicable; in a new and unexpected statement posted to Instagram, the band have stressed that they wish nothing but the best for their former bandmate.
"After ten incredible years we must sadly announce that Volbeat and Rob Caggiano have parted ways," the statement reads. "During our time together we've traveled the world, [shared] great experiences and released four albums that we are immensely proud of, and we wouldn't change a moment of it.
"We wish our brother Rob all the best with everything he does in the future (we know it's going to be great)!"
The band add that Flemming C. Lund – of Danish metal outfit The Arcane Order – will assume guitar duties for the remainder of their 2023 shows.
Signing off their statement, the band conclude: "Thank you to all of our incredible fans for their support, and more importantly, thank you to Rob for ten amazing years."
View this post on Instagram
 
A post shared by Volbeat (@volbeat)
Rob Caggiano joined Volbeat in early 2013, very shortly after his departure from thrash metal juggernaut Anthrax. With Caggiano in the fold, the group – which also comprises frontman Michael Poulsen, bassist Kaspar Boye Larsen and drummer Jon Larsen – put out four records: "Outlaw Gentlemen & Shady Ladies (2013), Seal the Deal & Let's Boogie (2016), Rewind, Replay, Rebound (2019) and Servant of the Mind (2021).
Flemming C. Lund will baptise his position as temporary lead guitarist on June 10, when the band will perform at Finland's Rockfest.
Back in 2021, Caggiano told Guitar.com that producing Volbeat's latest album, Servant of the Mind, during the Covid pandemic – which involved recording in isolation – as "like being in a bomb shelter".
I'd be in there for days at a time. It was cool to be locked up in a creative space but, at the same time, I was losing my mind," he said.
"It was definitely extreme. I remember recording everything for the whole record and taking a few steps back from it – maybe four or five days off – and listening to it. [I thought], 'I need to go back and redo it; it feels forced.'"
The post Volbeat announce departure of guitarist Rob Caggiano appeared first on Guitar.com | All Things Guitar.
Source: www.guitar-bass.net