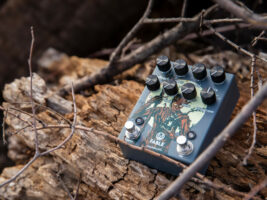 Walrus Audio launches Granular Soundscape Generator The FABLE
Walrus Audio has released the second entry of its "Storybook Sonic Adventure" stompbox range – The FABLE.
READ MORE: The Big Review: Walrus Audio Melee – thick distortion plus modulated reverb equals portable armageddon
The new release follows on from The LORE effects pedal launched in June last year, which earned an 8/10 from us at Guitar.com for its ambient soundscapes.
The Fable hosts five new granular delay programmes centred around sample and chop algorithms, and works using a dual feedback path developed by DSP engineers.
With two DSP chips, the player's signal is run through two separate effects in series (independently controlled by the Feedback and Regen Knobs). These signals are run back through both DSP chips again before going through the output.
Walrus Audio says artists "will discover unique soundscapes ranging from smooth, flowing ambience; to bizarre, organic reverberance; to chaotic, glitchy swarms".
The five granular delay programmes are as follows:
Programme 1: Reverse Delay into Reverse Granular
Programme 2: Forward Delay into Octave Up Granular
Programme 3: Analog Delay into Octave Down Granular
Programme 4: Multi-Tap Granular into Multi-Tap Granular (Grain-Verb)
Programme 5: Forward Delay into Randomised Pitch Granular
Manipulate sampling length, position and buffer size of grains (short samples)
The Fable is available now for £305. Find out more at WalrusAudio.com.
The post Walrus Audio launches Granular Soundscape Generator The FABLE appeared first on Guitar.com | All Things Guitar.
Source: www.guitar-bass.net