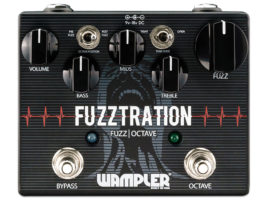 Wampler unleashes the Fuzztration
This fuzz/octave pedal has a ferocious bite.
Wampler has unveiled its latest offering: the Fuzztration. With a plethora of fuzz tones and an independent octave effect, this stompbox is a complete toolkit designed to satisfy all your fuzz needs.
The pedal is not "designed to play 'nice'", the brand claims. It possesses a "raspy, in-your-face fuzz" that can be dialled in to achieve classic Pink Floyd-esque sounds or heavy-hitting metal riffs.
Diving into the controls, the Fuzztration sports a "Volume" knob as well as a three-band EQ, that offers full tone-sculpting capabilities. Its "Fuzz" knob governs the amount of effect, serving up tones that range from thick, sputtering sounds to a full-on torrent of fuzz with massive sustain. To further shape the fuzz character, a voicing switch can be toggled between a classic "Tight" response and an "Open" (dark) response.
As mentioned earlier, the Fuzztration also boasts an independent octave effect that stacks seamlessly with its fuzz effect, as well as other pedals. By toggling the "Octave Position" switch, you can select between "Pre Fuzz" and "Post Fuzz" options. The former produces a classic octave tone, while the latter launches a much trippier, harmonic assault.
Available from 19 November at $199.97. More information at wamplerpedals.com.The post Wampler unleashes the Fuzztration appeared first on The Guitar Magazine.
Source: www.guitar-bass.net