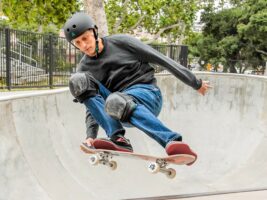 Watch Tony Hawk covering Nine Inch Nails' Wish alongside Trent Reznor
Tony Hawk has teamed up with an all-star backing band for a cover of Nine Inch Nails' Wish, a classic from their 1992 EP Broken.
READ MORE: Gene Simmons says he "wanted to take Van Halen under the wings of KISS"
The cover was curated by Mikey Hawdon of Toronto punks Fairmounts, who runs a YouTube channel called Mikey and His Uke, where he posts various covers with different musicians. The cover's all-star cast features Hawk on vocals, Ben Weinman (The Dillinger Escape Plan, Suicidal Tendencies) on guitar, Brad Magers (The Bronx) on bass, Kat Lucas (stormylovechild) on keyboard, and Ryan Leger (Every Time I Die) on drums.
The video shows each musician playing their part remotely, along with footage of Hawk skating around Los Angeles and Venice Beach while lip-syncing the lyrics. The video also includes a hilarious cameo from Trent Reznor himself, appearing as a pedestrian who almost gets hit by Hawk as he crosses the street, and gives him a sarcastic thumbs-up.
Watch the video below.
Hawk does a surprisingly good job of delivering the aggressive vocals of the song, which he has said he wanted to cover since the beginning of the series. He also expressed his gratitude to the other musicians for their passion and energy.
The cover is part of the 'Two Minutes to Midnight' Bedroom Covers series, which aims to raise funds for various charities and causes. You can support the project by visiting Mikey and His Uke's Patreon page.
The post Watch Tony Hawk covering Nine Inch Nails' Wish alongside Trent Reznor appeared first on Guitar.com | All Things Guitar.
Source: www.guitar-bass.net