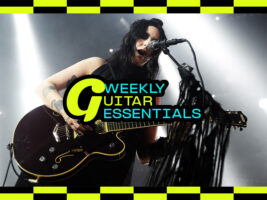 Weekly Guitar Essentials: Green Day, Glitterer, Sunn O))) and more
Welcome to our Weekly Guitar Essentials! Your roundup of the last seven days' best guitar-based tracks, from your next indie favourite to the biggest names in music. Check out the tracks below, or follow the full playlist on our Spotify.
SOFY – YoYo
With drums and bass straight off a lost Tony Hawk Pro Skater soundtrack, this scrappy, grungy track from SOFY is a blast of early 00's fun, with some killer guitar tones.
Chelsea Wolfe – Whispers In The Echo Chamber
Chelsea Wolfe is always an awesome source of dark, ethereal gothic music, and that's not changed with the second single from She Reaches Out to She Reaches Out to She
Yard Act – Dream Job
With new record Where's My Utopia on the way, Yard Act are shaping up to bring some real dancy energy to their talky, utterly 2020s post-punk.
Green Day – The American Dream Is Killing Me
Green Day are back! With a new record on the horizon! And the first taste of it (perhaps unlike Father Of All …) sounds like the Green Day we know, right down to the octave chords and the earworm vocal melody.
Everything Everything – Cold Reactor
Cold Reactor is about building a world upon a terrible unwieldy foundation, one spiralling rapidly out of control. Counteracting that dread, it's also really, really catchy.
The Kills – Wasterpiece
The Kills' new record God Games is out now, and it's bloody great – Wasterpiece is a particular highlight, building into fuzzy destruction over the course of the driving track.
Sunn O))) – Evil Chuck
Sunn O)))'s first studio release since 2019's Pyroclasts is a collection of two short (for Sunn O))), at least) tracks as part of Sub Pop's legendary Singles Series. The tracks are each short slabs of what the band are known for – overwhelming, monolithic guitar drones.
Glitterer – Plastic
Last week Glitterer, previously just the solo project of Title Fight's Ned Russin announced they're now a full band – and the first taste of their new incarnation is Plastic, complete with crunchy power chords and an awesome synth hook.
FIDLAR – Get Free
FIDLAR don't need long to make a statement. That much is evident from the first chord of the sub-two-minute Get Free, which is like being kicked in the head by a horse. In a good way.
The Gaslight Anthem – Michigan, 1975
The Gaslight Anthem have returned to us with the sprawling, heartfelt History Books. It's an awesome listen, especially with Bruce Springsteen's surprise appearance, but Michigan, 1975 is a great guitar highlight with some lovely and textural slide playing.
Check the full playlist out on our Spotify:
The post Weekly Guitar Essentials: Green Day, Glitterer, Sunn O))) and more appeared first on Guitar.com | All Things Guitar.
Source: www.guitar-bass.net