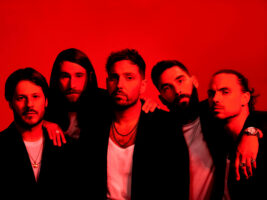 "We've gone backwards to move forwards:" You Me At Six on tapping into their old selves and 2000s pop-punk on new album Truth Decay
In late 2021, the members of You Me At Six sat down to talk about the direction of what would become their eighth album. Their previous record, SUCKAPUNCH, had reached number one earlier that year. It was also their most experimental to date, mixing in hip-hop and electronic influences alongside the band's signature rock-meets-pop sound. At the same time that they were pushing the boundaries of what their music could be, the band was returning to their old material. Over the past few years, they'd been playing ten-year anniversary shows for their first three records, most recently, two dates in June to celebrate their third album, 2011's Sinners Never Sleep. Those first two albums – 2008's Take Off Your Colours and 2010's Hold Me Down – delved heavily into pop-punk and emo while Sinners Never Sleep took a wider approach to rock, along with integrating heavier influences from hard rock, post-hardcore and metalcore.
READ MORE: "I think we did a lot of things the wrong way" White Reaper on why following their instincts meant ditching an entire album's worth of recordings
"When we were going back and playing those songs, it made us realise we haven't made a record like this for ages," guitarist Max Helyer explains over Zoom. So they decided to use what they'd learned from making their last few records to revisit the sound of their first few records. Truth Decay, arriving 27 January, is a rock album through and through, but it's not simply a re-hashing of the sound of the band's earliest material. Instead it references the band's past while simultaneously looking to the future. "We've gone backwards to move forwards," Helyer said.
Songs like After Love In The After Hours and Who Needs Revenge When I've Got Ellen Rae, with their breakneck choruses bolstered by rapid-fire riffs, call back to sophomore effort Hold Me Down. But some of these songs began life as cuts for other albums. Bright, propulsive A Smile to Make You Weak(er) at the Knees was written at the same time as their 2014 release Cavalier Youth. Haunting album closer A Love Letter to Those Who Feel Lost was left over from 2018's IV and single heartLESS came from SUCKAPUNCH. The songs still bear fingerprints of those albums' individual identities, but it serves as a fitting retrospective on the band's career.
There are moments where Truth Decay branches out into new territory – like trap on darker Breakdown – but the songs get pulled back firmly into the world of pop-rock. Ultraviolence's hip-hop-inflected verses build to an all-out breakdown. In between the explosions of synths on heartLESS, clean guitar picking rings clear.
"You're challenging people with a certain part of the song, but then you're going back to the classic DNA of what the band is," Helyer said. Reflective Mixed Emotions (I Didn't Know How to Tell You What I Was Going Through) feels in keeping with modern arena rock but wouldn't have felt out of place on Cavalier Youth. "I think that's merging both worlds of the things that we've been loving doing," guitarist Chris Miller said. "Creating new soundscapes to fit Josh's vocal, and then looking backwards to our old big pumping choruses and combining the two."
Guitars and more guitars
That rock feel came down to the guitar, which was put front and centre on Truth Decay. "On previous albums, a lot of melodies and stuff that would usually be played on guitar has transferred over to other instruments or [we were] trying everything we could to make a guitar not sound like a guitar," Miller said. "Whereas now we're like, 'Nah, let's go old school," – big huge lead lines, tons of layered, double-tracks. It's almost more than two guitars going on the whole time."
And the guitarists had their work cut out for them. "What feels natural to me and Max is really just to go in there and just throw everything at it and then in the mixing stage, take things away. So it was really fun to have that freedom again, to just go wild on it," Miller said.
"It was a nightmare for [the] mix stage… must have been fifty-plus guitar tracks," Helyer adds.
The emphasis on guitar started from the very beginning of the process. While a lot of songs on the previous two records grew out from programmed drums or chords, most of the songs on this record started on guitar. "Me and Max have always had a philosophy of working together," Miller said. "We've never separated lead and rhythm to either/or person." Sometimes it was a riff that could form the basis of a song or the writing could start with a verse and chorus. Vocalist Josh Franceschi, who also plays guitar, would sometimes start songs with a chord progression and vocal melody. Apart from the songs Franceschi started writing, it was often the case that most of the music was written for a song before the lyrics were attached.
But the band would often hold off on writing the middle eight section until pre-production or recording."These bridge/middle eight sections are us going back to the root of the band of being in a room together playing our instruments," Helyer said. "And I think that's where a lot of the magic comes from. So we don't complete the songs fully, we like to try and leave a little bit of excitement when we're making the record, because then that bleeds into the recording."
Recording started in Black Rock Studios in Santorini and was later completed in Rugby's Otterhead Studios. They could only fly a certain amount of gear to the Greek Island, so Miller says they took a coffin case with space for three guitars each – two main guitars and "a wildcard," which, for Helyer, meant his 1963 Silvertone Jupiter. "The Silvertone is just there for fun but it has added colour underneath. It's not the predominant guitar in songs, but to get that really low grunt and that broken fuzzy tone, when you've got a high gain with the humbuckers and a single coil, it just adds a different flavour in there, so when you blend it all together, it's got this really cool sound," he said.
"The Silvertone's always funny because you're just like, 'Oh we need it to sound a bit shit.' So we're like, 'Yeah, go and get the Silvertone.' But it's like the best-worst sound you ever heard," Miller said.
It was too costly – and would take too long – to bring all their amps to Santorini, so they opted for the digital route of Helyer's Neural DSP Quad Cortex and Miller's Kemper. "To have the option to bring profiles of all our favourite amps at home with us and just plug that in and go without relying on what's at the studio, is a really nice thing," Miller said.
There are lots of different textures and tones on the record, from airy picking to crackling distortion to blaring chords. Experimenting was key. "I like adding pedals," Helyer says. "I think that's where the character comes from. If I'm talking in Bob Ross terms, it's just happy mistakes that you brush with a stroke and, 'Oh, I turned that on by accident, but fucking hell that sounds really cool.'"
It comes in handy when there's so many guitar parts being thrown into the mix. "The most boring secret weapon of all time is probably the Boss grey EQ [the GE-7] pedal," Miller says. "We use that hell of a lot, especially if we're double-tracking guitars or looking for a new layer to add on top of already double-tracked guitars.That EQ pedal is just perfect for shoving in a new guitar and adding a bit of high or boosting something into distortion."
Image: Press
Call that a comeback
During their almost two-decade-long career, You Me At Six have seen the ebbs and flows of rock in popular music, having started out during the height of pop-punk. In the past few years, pop-punk and emo music has had a resurgence in popular culture. Artists that don't typically make rock-leaning music have dipped their toes in too, like former X-Factor winner James Arthur, who enlisted Franceschi to feature on his song Lose My Mind last year.
The scene is also being celebrated in massive nostalgia-tinged events like When We Were Young Festival in Las Vegas, which Helyer attended last October. "I thought all the emo kids disappeared!" he said. "I really did. And they haven't. They're still there. They're still listening to this music, but there's a new generation coming through who are listening to the likes of Yungblud and Machine Gun Kelly and so on. But there's still the old school kids who are wanting to listen to that."
The wider trend of both admiring the legendary acts from decades past while also listening to the current experimentation within the genre reflects You Me At Six's approach on Truth Decay. "We wanted to tap into our influences on this record and what we grew up on," Helyer said.
Triumphant God Bless the 90's Kids showcases You Me At Six's older influences. "Looking at anthems like Sugar, We're Going Down by Fall Out Boy or Blink-182 songs, probably all of them," Miller laughs. But they were also turning to their own song Underdog, off of Hold Me Down.
"Just thinking, if I was in a rock bar in the UK, or a club night and a song came on that I just wanted to scream at the end of the night, after a few beers and at the same time with the lyrics, pay homage to where we've come from, and all the people from that era," Miller said.
With Truth Decay, You Me At Six is in the unique position of being a part of that 2000's boom, and getting to return to the sound now, in 2023. "We want to showcase what UK rock-pop/emo's all about and why we're still here after all this time doing it," Helyer said.
You Me At Six's Truth Decay is out January 27.
The post "We've gone backwards to move forwards:" You Me At Six on tapping into their old selves and 2000s pop-punk on new album Truth Decay appeared first on Guitar.com | All Things Guitar.
Source: www.guitar-bass.net