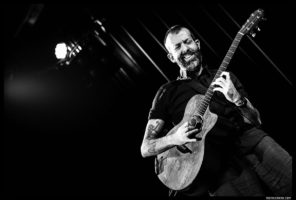 Why I Love My… Jon Gomm and his Lowden 032C
The percussive fingerstyle virtuoso tells us why he loves his faithful Lowden acoustic called Wilma – even if she's got a few scars…1. I love my…
"Wilma! It's a tough call between Wilma and Rocky, but the first love is the deepest. Wilma is my old Lowden that you can see me use in all my videos – it's a jumbo shape, spruce top mahogany back and sides, all scratched up to fuck… but more beautiful every day."
2. How I got it…
"So in about 1999 I decided I needed a Lowden, after going to see Nick Harper, who just has this sound where one acoustic guitar seems to have the power of a wall of Marshalls. I couldn't afford a new one, so I was searching through the reader ads in guitar magazines. The only Lowden I could find was in a magazine from 18 months previous. I called the number and the guy still had it, but he was based down south in Winchester and I didn't have a car. I mentioned it to my dad, and he said, 'That's weird, I'm going to Winchester tomorrow'. Fate spoke, and Wilma and I were brought together."
3. It's special because…
"She's just mine, she only fits me and I only fit her. Every scratch and mark is a song or a story. She's been my only company when I've been alone and desperate, she's the place I go when I need to say something important."4. It's perfect for…
"Me, really. She's sounds weird, she's been glued back together so often. Anyone who wants to try to play or sound anything like me should try my Lowden signature model, which has all the best things about Wilma: the soulful tone, the power, the playability, but none of the weaknesses. My personal signature model I named Rocky. He's so well built and designed, he can withstand my playing. Wilma never could, the poor girl!"
5. It sounds best with…
"Newtone strings on it – ideally my signature gauge tuned down deep and low. Fishman pickups are also a great fit, but you'll want to have at least a dual-source system like the Rare Earth Mic Blend, if not three sources. Klotz cables: the best, no nonsense cables. I play into Sontronics mics in the studio, a Motu interface, Boss and Zoom pedals and a TC Helicon VoiceLive. I'm between amps right now!"
6. Hear it on…
"Secrets Nobody Keeps, my most recent studio album, featuring Passionflower and other less popular songs."
Jon Gomm is one of the stars of the Guitar Masterclass Series 2018, which takes place 7 March in London – purchase tickets while you can at bit.ly/gmgomm2018The post Why I Love My… Jon Gomm and his Lowden 032C appeared first on The Guitar Magazine.
Source: www.guitar-bass.net