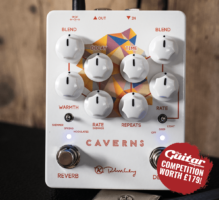 Win a Keeley Caverns V2 delay/reverb pedal!
Robert Keeley is one of the leading lights of the boutique effects scene – his sublime creations have been gracing the pedalboards of rock stars and tonehounds for more than 15 years now. And thanks to Keeley Electronics, one lucky reader will join that discerning club by winning a Caverns V2 delay/reverb pedal.
The original Caverns appeared a few years back, as an answer to the prayers of space-concious guitar players who couldn't fit both a delay and reverb onto their 'boards. The Caverns solved that problem by not making you choose – putting both effects in a single box, and offering you full independent control of each.
It was an idea that went down well with fans of all things ambient, but Keeley thought there was room for improvement. Last year V2 arrived, complete with a wider case to fit in eight full-sized knobs and a new three-way switch to control delay modulation. There are also internal tweaks – the plate reverb has switched to spring, joining the existing shimmer and modulated options, the delay time is now at a usable 650ms, and you even get the option to select true or buffered bypass for every effect – complete with those all-important trails.
With lashings of authentic tape-style delay on tap one side, and towering reverb on the other – with the ability to blend them to your taste – it's no wonder we said that the Caverns was, "Delay and reverb working together in perfect harmony". For more information about Keeley Electronics pedals visit robertkeeley.com, and to be in with a chance of winning a Caverns yourself, simply answer the question below:
In what US state is the Keeley Electronics headquarters located?
* indicates required
Email Address *
First Name *
Last Name *
Answer
California
Oklahoma
Delaware
Opt in to more info from The Guitar Magazine
Yes
Competition T&Cs
To be in with a chance of winning, simply submit your answer and details using the form above. By ticking the newsletter box you will be automatically be added to The Guitar Magazine email newsletter list, keeping you informed of news, special offers and promotions via email. Anthem Publishing will not pass on customer email addresses to other companies. You may unsubscribe from these messages at any time. The editors decision is final. The competition is open to UK residents only. Winners will be notified by email and will have five days to claim their prize before it is passed on to the runner-up. The full competition T&Cs can be found here on the Anthem Publishing website.Closing date 20th August 2018.The post Win a Keeley Caverns V2 delay/reverb pedal! appeared first on The Guitar Magazine.
Source: www.guitar-bass.net