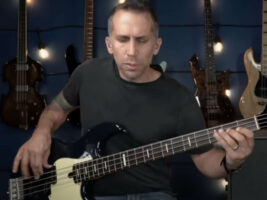 Wish you could hear the bass in Metallica's Blackened? Now you can, courtesy of Taylor Swift's bass player
It's a commonly held belief in the metal world that the bass on Metallica's 1988 album …And Justice For All is nowhere near loud enough. To give it its credit, though, that hasn't stopped it from becoming one of the most landmark albums in metal history.
For the audiophiles of the world, this lack of low-end presents a thorn in the side of an otherwise stellar listening experience. But thanks to the work of an unlikely hero, we can now hear how the album – or more specifically its opening track, Blackened – sounds with adequate bass volume.
READ MORE: This streamer just nailed Lynyrd Skynyrd's Free Bird on Guitar Hero at 300% speed – after 530 attempts
Enter Amos Heller, bass player for none other than Taylor Swift. Yes, his main gig sees him accompanying one of the world's biggest music stars, offering his chops to her monumental catalogue of hits live, but behind the scenes he's also a fantastic metal bassist.
And he's put his skills to good use, injecting a much-needed dose of bass into Blackened, the time-signature-shifting, uber-thrashy opener of Metallica's fourth album.
It should be noted that Heller chooses not to emulate Jason Newsted's playing on the track completely faithfully; he opts to play fingerstyle rather than use a pick as Newsted did. That doesn't stop him from absolutely nailing the track's inherent ferocity, mind.
For the cover, Heller calls upon his Seymour Duncan Quarter Pound-equipped Yamaha BB P 34 bass guitar, running it through a Darkglass Electronics MicroTubes Infinity with a 12:1 compression ratio.
"I don't think I would be a musician if it wasn't for thrash metal, and I don't think I would love thrash if I hadn't listened to it every day of my freshman year riding to school in my brother's car with …And Justice For All blazing out of the speakers," Heller reflects in the video's description.
"This album is an oddity… a killer metal album with no bass on it. So I put some bass on it. The modern tone I went for might not be the most era-specific, but it felt like a good fit to me. This song was a real challenge, and I love playing it."
You can see more from Amos Heller over at his official YouTube channel.
The post Wish you could hear the bass in Metallica's Blackened? Now you can, courtesy of Taylor Swift's bass player appeared first on Guitar.com | All Things Guitar.
Source: www.guitar-bass.net