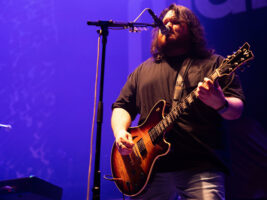 Wolfgang Van Halen plays Eddie's iconic Frankenstein guitar on new Mammoth WVH single
The latest single from Mammoth WVH's upcoming second studio album Mammoth II, finds bandleader Wolfgang Van Halen penning his longest track to date, and using some of his father Eddie Van Halen's iconic gear.
On Take a Bow – which clocks in at six minutes and 54 seconds – the multi-instrumentalist taps his father's legendary Frakenstein electric guitar, and powers it through "Dad's original Marshall head" and one of his original cabinets.
"It was the last song we finished," he explains. "It's officially the longest song I've released to date, and I feel the guitar solo is really special. I played the solo on the original Frankenstein guitar and through Dad's original Marshall head and one of the original cabinets.
"It's straight up what he used on the earliest Van Halen records. It makes me happy to capture some of dad's history on this song forever."
The track itself is a riff-driven, mid-tempo hard rocker, with smatterings of clean arpeggios and a Frankenstein-delivered solo that sees Wolfgang channelling his father in spectacular fashion, with some soulful bends and characteristic two-handed tapping taking centre stage.
Earlier this year, Wolfgang Van Halen revealed his plans to use some of his father Eddie's "notable guitars" for the solos on the new Mammoth WVH album.
"The only thing I have left to do is track the guitar solos," he told Total Guitar in February. "So what I want to do is go through some of Pop's notable guitars and do a solo with each of them. Guitars like the Frankenstein or the Shark, stuff like that."
He also said that while he didn't plan on using his EVH SA-126 prototype for the new album at first, the guitar's versatility took him by surprise and he ended up using the instrument on "pretty much the entirety of the album."
"We were almost surprised as we kept going through," he said. "It was like, 'Wow, okay this works for this, too' and 'Oh my god, this works really well again over here!' From the cleans to the really heavy stuff, it sounded crazy!"
On that new SA-126, Wolfgang recently described it as "like a shredder hollow-body".
"Starting Mammoth [WVH], I thought it was really important for me to have my own sort of tone," he told Ola Englund in an episode of his Coffee With Ola series. "My own sort of sound instead of just playing a Wolfgang through 5150s and just kind of calling it a day. So I ended up being attracted to this sort of classic semi-hollows and that sort of warm tone."
The post Wolfgang Van Halen plays Eddie's iconic Frankenstein guitar on new Mammoth WVH single appeared first on Guitar.com | All Things Guitar.
Source: www.guitar-bass.net