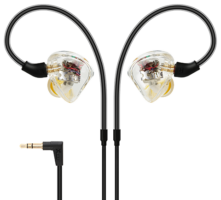 Xvive introduces T9 In-Ear Monitors and U4T9 wireless system with in-ears
Building on the success of their U4 In-Ear Monitor Wireless System, Xvive is now introducing their own in-ear monitors. T9 In-Ear Monitors have been designed by top IEM engineers in the USA to offer customers pro-level audio quality—previously only available from custom in-ears—at a much more accessible price.
T9 is endowed with two balanced-armature Knowles drivers: one of the industry's largest and most powerful mid-bass drivers, and a custom-tuned, custom-ported micro tweeter. Along with a custom unified crossover, these cutting-edge components have the headroom to accommodate whatever EQ adjustments any user may desire. Nonetheless, T9 comes perfectly balanced, with a responsive and detailed sound signature that is not overly hyped or coloured—so audiophiles will enjoy a fulfilling listening experience right out of the box.
An invaluable tool for performing live musicians, T9 is also perfectly suited to in-studio tracking and mixing—but perhaps most importantly, these hi-tech earbuds make the experience of listening to music fun and rewarding for absolutely anyone!
T9 IEMs pair perfectly with Xvive's U4 In-Ear Monitor Wireless System, providing musicians with unbeatable monitoring value for live performance and studio applications. The new U4T9 set includes the U4, T9 in-ears, and a CU4 carry case.
T9 and U4T9 are available now from Xvive dealers worldwide.
T9 US MAP: $189 USD
U4T9 US MAP: $418 USD
T9 FEATURES
Dual balanced-armature drivers
Hand-assembled
Sound-isolating earphones
Both silicone and memory-foam ear tips included in three sizes
3.5 mm earphone jack, compatible with all systems
Carrying case and cleaning tool included
Durable, replaceable cables
Custom-designed, unified crossover ensures that each driver is only sent frequencies they were designed to reproduce
T9 SPECIFICATIONS
Frequency response: 20 Hz – 16.5 kHz +/- 3 dB
Impedance:59 ohms @ 1 kHz
Sensitivity:120 dB @ 1 kHz
Total harmonic distortion (THD): < 0.2% @ 1 kHz
Transducer principle:Dual Balanced Armature
Input:1/8″ headphone jack, or with 1/4″ adapter
Cable Length:120 cm (47")
Weight with cable:18.6 g
www.xvive.com

The post Xvive introduces T9 In-Ear Monitors and U4T9 wireless system with in-ears appeared first on Music Instrument News.
Source: musicinstrumentnews.co.uk