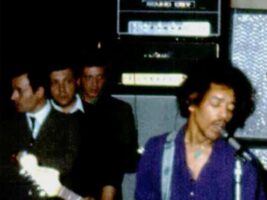 You can now buy an amp that Jimi Hendrix may have played, for $450,000
A 1960s Sound City amplifier that may have been played by Jimi Hendrix can now be yours for the modest price of $450,000.
READ MORE: Gibson's Cesar Gueikian hints at DG-335 Dave Grohl signature model revival
Pure Vintage claims Jimi Hendrix allegedly used the 1967 Sound City 100-watt Mark 3 custom amplifier during some of his most famous performances between 1967 and 1968.
According to the listing, one of the most famous Sound City amps used by Hendrix was the Sound City L100 head, which was known for its powerful output. This was used by Hendrix during his performance at the Isle of Wight Festival in 1970.
The amp in question was allegedly owned by Hendrix in November 1967 and can be seen in a photo from a performance at the Piper Club in Milan in May 1968.
However, Pure Vintage has also stated that he only used the set-up until the end of January 1968, although he continued to use it on occasion as a monitor system.
A letter of authenticity from Hendrix's brother, Leon, will be sent to the seller once the half-million-dollar amp has been bought. Apart from this, there is no further evidence that this amp was owned by the legendary Jimi Hendrix.
Forums such as The Gear Page, have said that Hendrix was not a huge fan of the Sound City amps, as he couldn't get the sound he wanted.
As this amplifier was built in 1967, there is a good chance that Hendrix used it a couple of times, but it would not have been used to the same capacity as the Marshall 100w Superlead model.
You can check out the listing for yourself at PureVintage.com.
The post You can now buy an amp that Jimi Hendrix may have played, for $450,000 appeared first on Guitar.com | All Things Guitar.
Source: www.guitar-bass.net