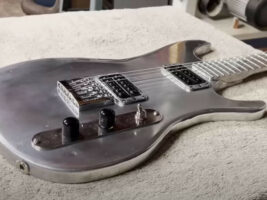 YouTuber builds fully-functional electric guitar out of 1,000 aluminium cans – here's how it sounds
Burls Art, a YouTuber who specialises in making custom guitars out of non-conventional materials, has embarked on his most extreme design yet – building a guitar out of one thousand recycled aluminium cans.
READ MORE: Metallica are giving fans the chance to win a one-of-a-kind Flying M guitar
Since starting his YouTube channel in 2018, the luthier has captured the attention of countless guitar lovers by constructing fully functional designs, all made out of unorthodox materials.
These have included one-of-a-kind guitars made from Himalayan rock salt, recycled plastic taken from the ocean and even newspapers.
Now, with over 620,000 subscribers at the time of writing, the developer has undergone his most extreme challenge yet, building a fully-functional Stratocaster-style axe, made entirely from melted-down aluminium cans.
Burls Art explains in the video that, building up to the project, he and his friends spent the past year collecting discarded cans from barbeques, dinners and camping trips, then an additional three months hand-crafting a furnace to melt them down.
"This project required a pretty extensive amount of research to even attempt," he said. "Working with propane furnaces and molten metal that can get above 1,800°F can get really dangerous, really fast, so I've taken safety precautions very seriously."
After melting down and cooling approximately 18.6 lbs of aluminium, the luthier documents how he constructs the neck and body using what he regards as a 'plug-and-mould' technique.
This involves crafting a replica of the neck and body out of wood – which then serves as the plug for a Petrobond mould – then pouring the molten metal in to create the final structure.
The two are bolted together using screws, then fret grooves are added using a small hacksaw. Features including fret markers, tuning machine holes and slots for two humbucking pickups are also added.
Check out how the final result sounds below.
The post YouTuber builds fully-functional electric guitar out of 1,000 aluminium cans – here's how it sounds appeared first on Guitar.com | All Things Guitar.
Source: www.guitar-bass.net