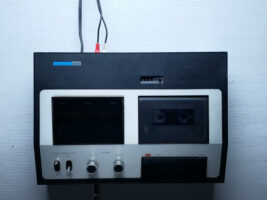 YouTuber carries out mission to show "anything can be a distortion pedal"
YouTube creator and composer David Hilowitz has carried out a mission to prove that "anything" can recreate a distortion pedal, if you know just how a distortion tone is created, that is.
By using an old tape recorder from 1975, Hilowitz has been able to craft a makeshift distortion effect for his guitar which he shows in the newly posted video.
READ MORE: The best distortion pedals to buy in 2023: 10 great hellraisers from budget to boutique
The pedal market has never been so vast – these days, we have pedals for quite literally every tone, tweak and desire you could possibly have for your guitar. Not only that, but we now have a whole array of digital effects and amp modellers, too.
But as we all know, pedals are often expensive, and guitarists who are on a tight budget often simply cannot afford them. Yet as Hilowitz shows, crafting a simple distortion doesn't have to break the bank, as long as you understand a little bit about how the signal from your guitar works.
As he explains in the video, and as many of you pedal builders and enthusiasts will already know, distortion is created by boosting the signal from your guitar, and then clipping it at its top end.
Hilowitz uses a microphone input to plug in his guitar into the tape recorder featured in his video, and as the guitar's signal is much bigger than a microphone, it gets clipped and therefore makes a distortion.
Towards the end of the video, Hilowitz also plays through an old mixer. Watch it in full below:
Speaking of making your own DIY distortion, Mastodon's Bill Kelliher had to do something similar when he was younger as his father "didn't believe" in it. "I had an old Sony receiver that was from the late '70s, I had two Advent speakers, a turntable, I had this little MXR EQ…Like a dual-band EQ stereo thing…"
He added, "And I figured out how to plug my guitar into the EQ, into my tape deck, hold down the Record and Play button — so it was in Record mode, so it would pass the signal, but there wasn't even a tape in there — press the Pause button and run signal through that."
See more from David Hilowitz at his official YouTube channel.
The post YouTuber carries out mission to show "anything can be a distortion pedal" appeared first on Guitar.com | All Things Guitar.
Source: www.guitar-bass.net