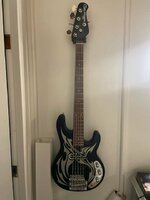 Bass Question
Hi all,
I purchased this bass two years ago. I just wanted a 5 string bassguitar, and this one suited me just fine.
Now I want to sell it and I realized I don't know anything about it.
So I was hoping someone on this forum could tell me more about its origins and history.
Source: http://forums.ernieball.com